Samsung and AMD both confirmed that they are working together to use RDNA 2 custom mobile GPU in Exynos SoC for high-performance mobile phones. The announcement of the Exynos chip with custom RDNA 2 GPU planned in June but now the date postponed to July 2021.
AMD is working closely with different OEM and Brand to accelerate their new products. We all know that the Zen CPU and RDNA GPU powering the PS5 and Xbox console. Moreover, AMD CPU and GPU are also widely chosen in Data Center, Cloud, e-commerce, and other servers.
In Computex 2021, AMD announced their partnership with Tesla. The new Tesla Model S and Model X feature Ryzen Embedded APU and RDNA 2 based GPU that power the new infotainment experience with support for AAA gaming.
Now in the coming days, you will see AMD in smartphone chip. The addition of AMD's RDNA 2 custom GPU to the Samsung Exynos chip will provide features like ray tracing and variable rate shading (VRS). However, all these features will come first to Samsung's "Flagship Mobile Devices".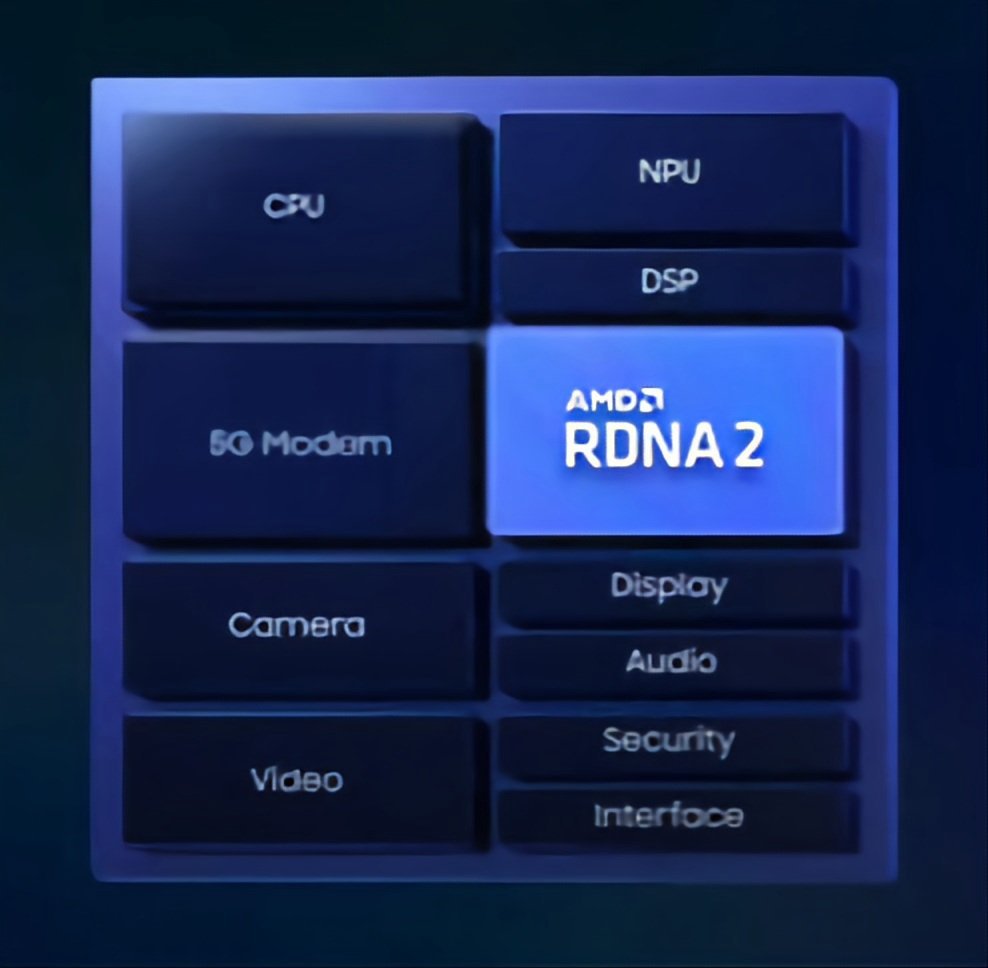 Currently, Exynos chips contain Mali GPU to run graphics-intensive work. Moreover, Mali GPU doesn't offer Ray Tracing and variable rate shading (VRS) so far. Although, Arm is working on Ray Tracing and VRS in their Mali GPU. And may push RT into the mobile GPU ecosystem as Nvidia and AMD did in PC and console.
As leaks suggest, the mobile RDNA2 GPU can narrowly beat out Arm's next-generation Mali GPU. 20%-30% performance throttling noticed after few test runs but still manages to beat out the current top-end Mali GPU.
On the other hand, AMD is benefiting by integrating the RDNA 2 architecture into a mobile SoC, that too with Samsung. Not only AMD is gaining experience to work with mobile GPU, but also extending its product in different platform.
Integration in the different platforms will help AMD to scale up their business up. Unlike Intel and Nvidia, AMD is much open to various platforms like Console, Mobile, Car, etc.
Today, many companies are working on Arm-based PC, which we can also say Windows on Arm. Generally, Arm-based laptops are more compact, lightweight, consume less power, and it's super portable. That does not mean it is not powerful. Take the example of the Apple M1 chip on Macbooks and iMac.
Apple is designing their custom GPU in the Arm-based M1 chip. But now, other laptop brands can partner with AMD to get a better graphics experience in the ARM-based laptop or PC.
There aren't many details on the Samsung new Exynos chip or which product will use it. This partnership may not be limited to smartphones only. Later on, Samsung can use the mobile RDNA 2 GPU in Arm-based Galaxy Book.