At CES 2023, AMD launched the non-X version of the Ryzen 7000 CPU. Here we discussed the non-X AMD Ryzen 5 7600 and Ryzen 5 7600X. Is it better to pay more for 7600X, or cheaper non-X 7600 would be enough?
Interestingly, the performance of the cheaper non-X Ryzen 7000 is close to their X-variant. And once the PBO get enabled, it even surpasses the Ryzen 7000X CPUs. Applying PBO is simple. Just toggle on/off Precision Boost Overdrive option in BIOS. Basically, PBO (Precision Boost Overdrive) is an automatic overclocking, which adjusts voltages and current to boost clock speeds much higher than advertised.
AMD Ryzen 5 7600 is a 6-core/12-thread 65W CPU that can go up to 5.3 GHz at stock settings. Furthermore, the AMD Wraith Stealth CPU cooler comes bundled. Since the chip is overclockable, the PBO can squeeze out more GHz.
Gaming Performance on AMD Ryzen 5 7600
Here, the average 1080p gaming benchmark shows that the Ryzen 5 7600X is 4.8% faster than the 7600 at the stock setting. But after PBO, the numbers changed significantly, and the AMD Ryzen 5 7600 beat 7600X by 4%.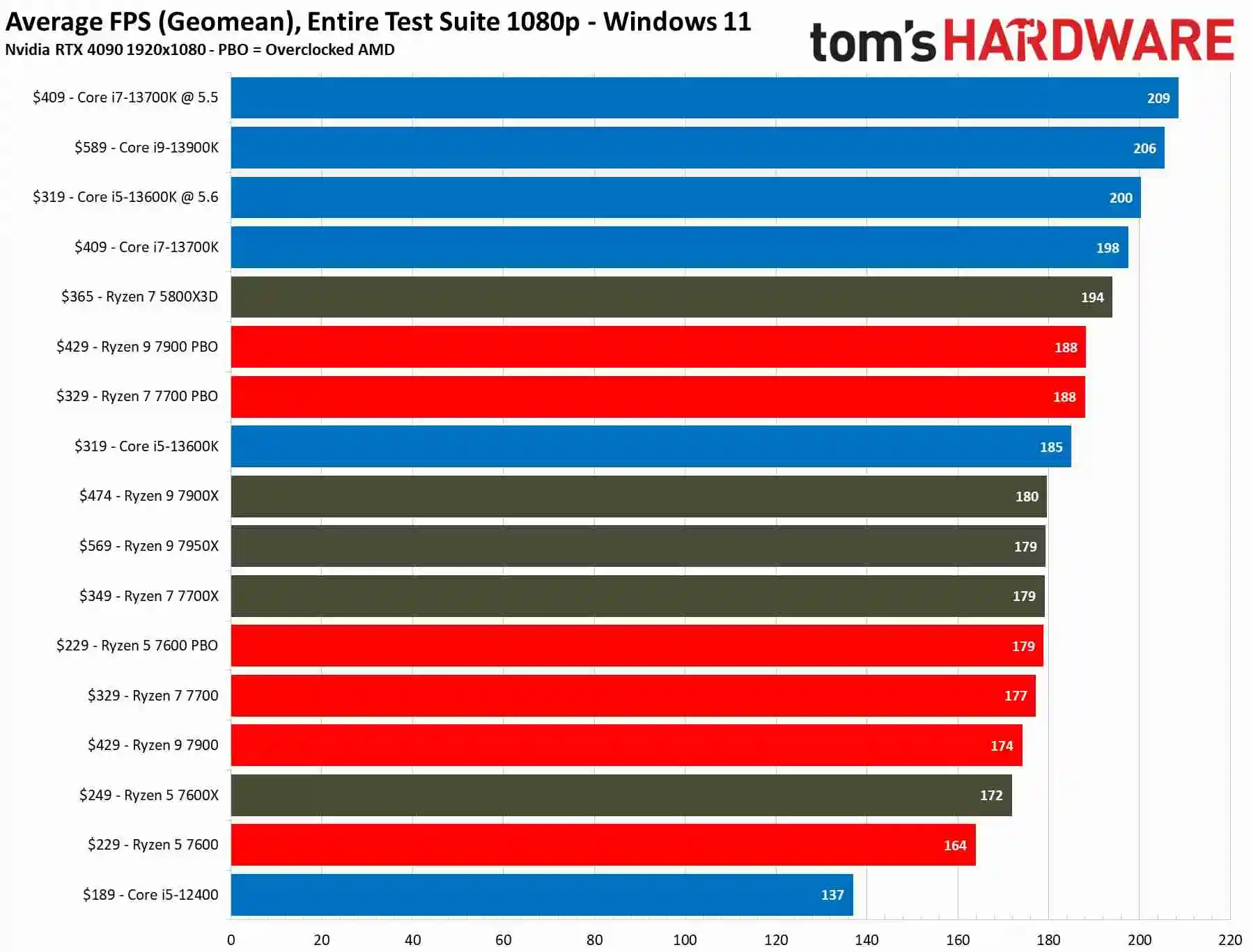 Precision Boost Overdrive (PBO) enables the $229 Ryzen 5 7600 to deliver similar FPS numbers as the $329 Ryzen 7 7700X. Intel Core i3-13600K beats Ryzens in the graph, but it's an expensive $310 option. However, cheaper "non-K" Core i5 (13400, 13500, etc.) could change things once available.
Games included in benchmarks are Cyberpunk 2077, Far Cry 6, F1 2021, Hitman 3, Microsoft Flight Simulator 2021, Warhammer 3, and Watch Dogs Legion. Every game here has taken advantage of the PBO. However, your mileage may vary on PBO performance as a better-binned chip tends to produce better overclocking results.
Productivity Benchmarks
In multi-threaded rendering, encoding tasks, and productivity workloads, the AMD Ryzen 5 7600 PBO is around 2% ahead of the stock 7600. Moreover, Ryzen 5 7600X is much faster, about 8% than the stock 7600 and 6% than the 7600 PBO.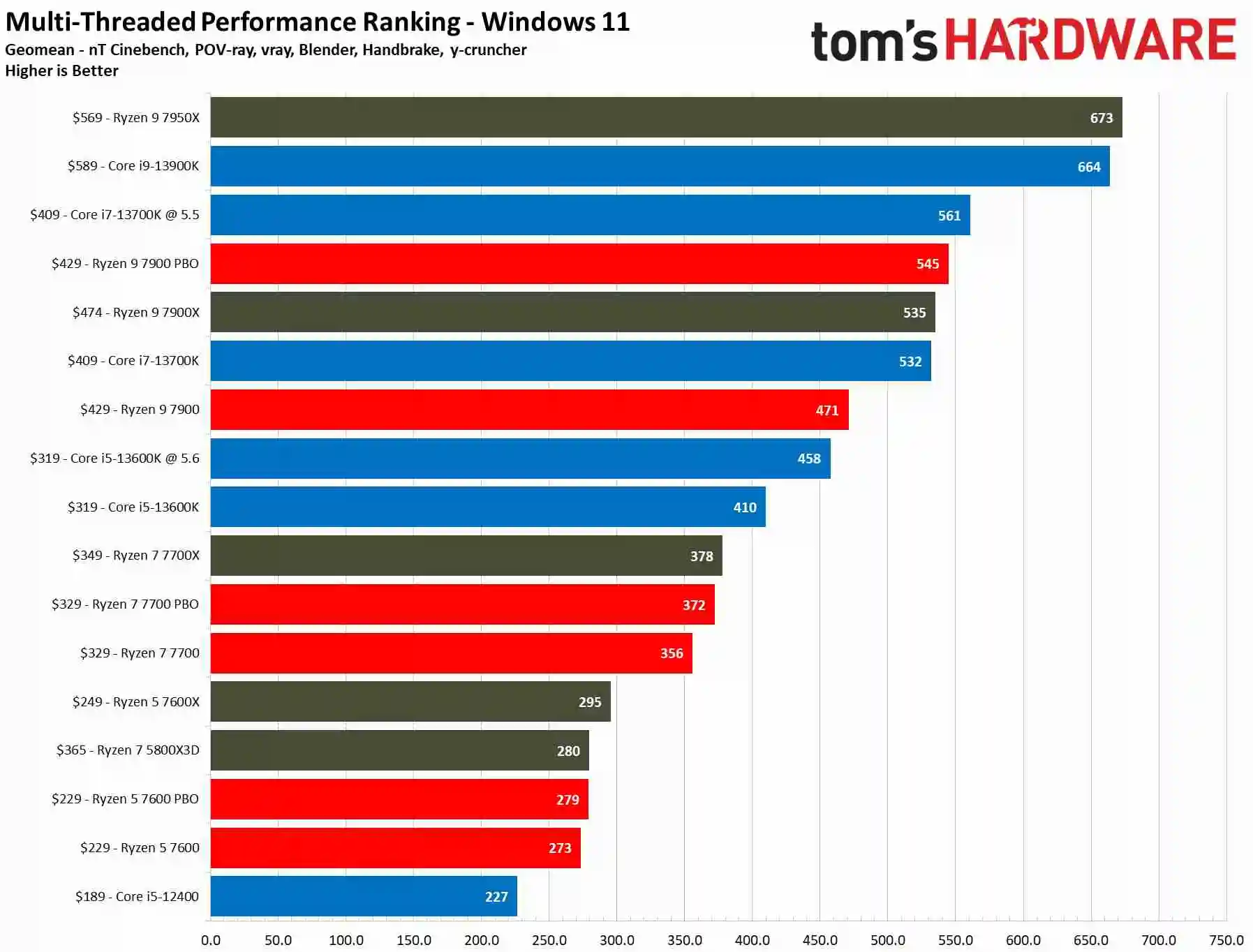 Multi-threaded benchmarks include Cinebench R23, Blender, POV-RAY, V-RAY, Corona, Handbrake, Adobe suites, etc.
Similarly, In single-threaded Cinebench R23 and POV-RAY test, Ryzen 7600 PBO is around 4% ahead of stock 7600. Again, Ryzen 7600X has a 3% lead over the 7600 PBO and 7% over the stock 7600.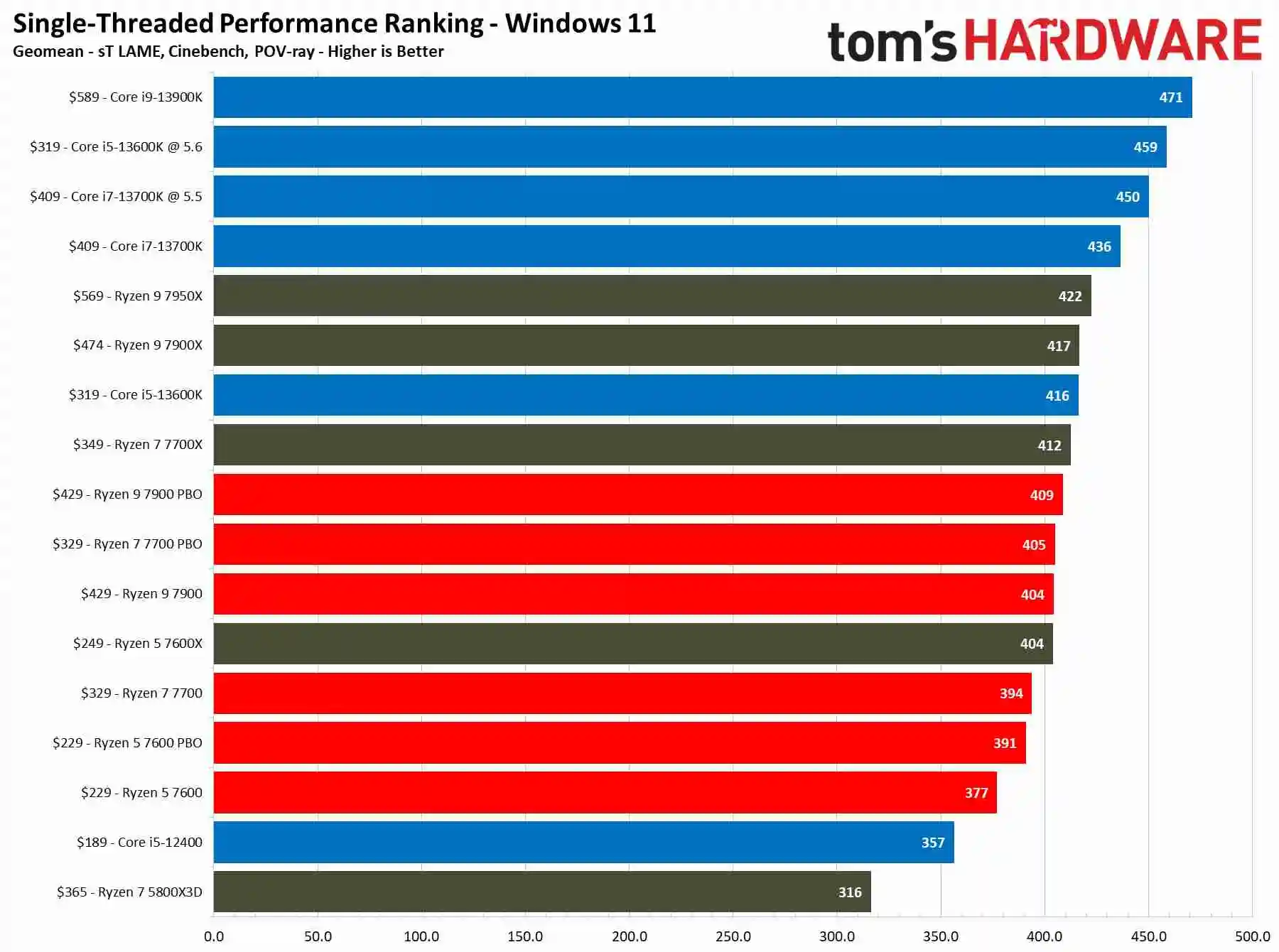 Thoughts
Of course, to get good numbers with the PBO settings, a better CPU cooler than the stock one would be needed. Furthermore, these chips consume less power than their X-variants. At stock settings, the Ryzen 5 7600 consumes 90W or less. And with PBO, the power consumption will be very high. This CPU could be the best budget CPU in the segment, but budget Intel Core i5s are yet to come.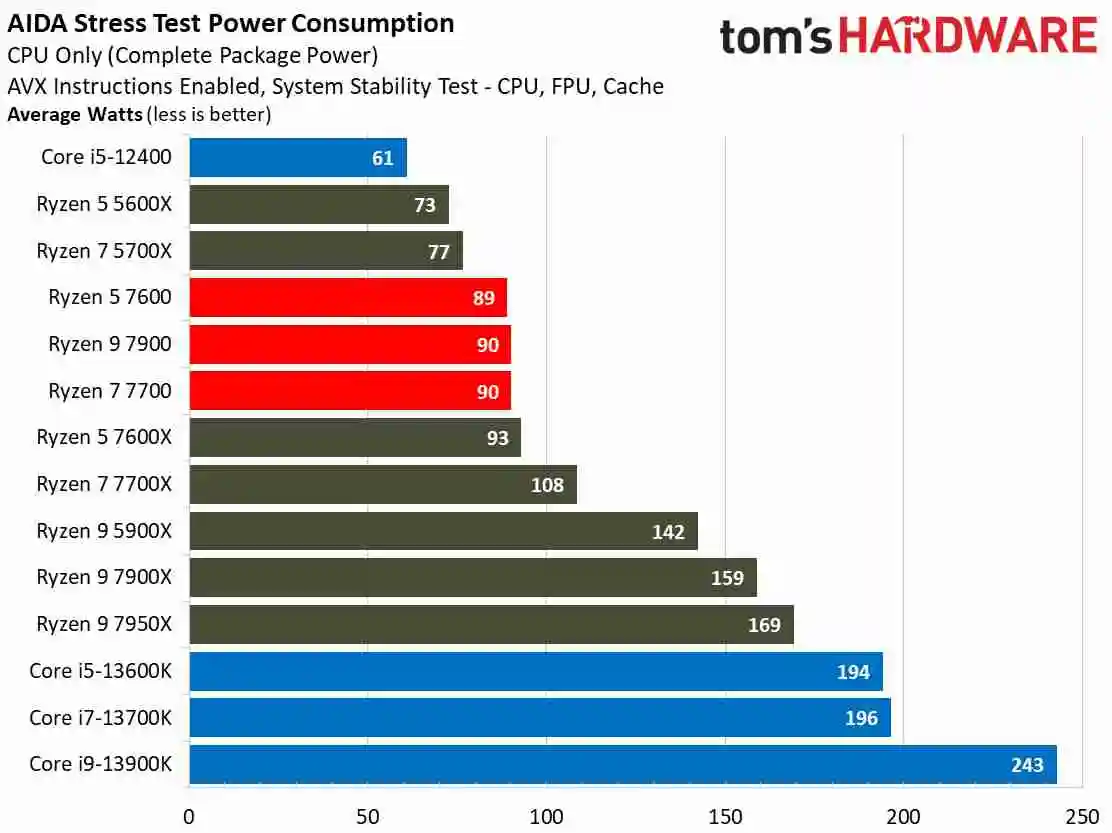 Currently, Ryzen 5 7600X is trading at $249 (₹23,999) and Ryzen 5 7600 at $229. The price gap between both CPUs is so less that it's hard to say anything. However, if you are more into productivity and less into games, get the Ryzen 5 7600X. And if you are low on budget and don't want to spend more on 7600X and a separate CPU cooler. The Ryzen 5 7600 would be a great deal for you.