Apple Silicon, an arm based processors for new mac is announced at Apple's WWDC 2020 on June 22. Apple is giving a big change to Mac devices, planned to use its own Apple chips instead of Intel. The transition from Intel to Apple chip will take approx two years to complete according to apple. Apple is already using its own SoC in the iPhone, iPad, Apple Watch, and etc, except Mac. All Macs are powered by Intel and this can become a limiting factor to Apple, what it wants to achieve with mac.
Intel is struggling in its 10nm process and architectural improvement for a long time. Apple can't just wait for Intel for something new, Apple has some different priorities too. Apple shared one graph showing performance and power consumption ratio between desktops and notebooks, highlighted the Apple intentions with mac. The goal is to make a powerful and faster mac that uses less power. This will also help Apple to make more compact and slim devices which will improve the overall build of Mac.
ARM Soc for Macs – Apple Silicon
According to Apple, Macs with Apple Silicon will perform like desktops and consume power like notebooks. Apple's A-series chips for the iPhone and iPad are the most powerful and efficient, hard for Qualcomm and others to keep up. The same advancement we can see in the Apple Silicon. Apple redesigned architecture and technologies to take advantage of their Soc like the Neural Engine for machine learning or the Secure Enclave for encryption. Combine lots of technologies in one chip gives Apple the advantage to utilize its custom chip far better than Intel.
No internal specs released but in the event, Apple A12Z Bionic chip was used to run different software. The iPad Pro uses the A12Z Bionic Chip and the same is available in the Developer Transition Kit. The name of Apple Silicon for macs will be different and desktop-class processors will be much more powerful.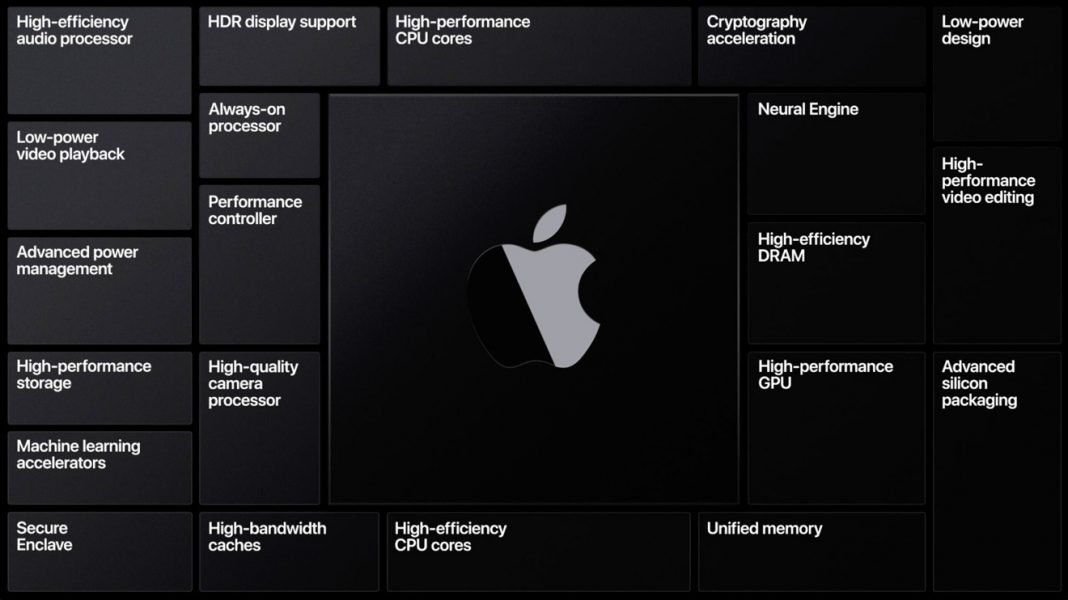 Developer Kit Specs
Apple has provided a Developer Kit so that developers can start making apps run natively on macOS and Apple Silicon. The Developer Kit is a Mac mini running on an A12Z with 16GB of RAM, 512GB of storage, and Type-C, Type-A, HDMI as I/O. Developers can also attend virtual sessions or discuss issues with engineers within the forums and the Apple Developer app. Apple has also provided day-one documentation on developing and testing Universal apps.
Applications built for iOS and iPadOS will run natively on the new Apple Silicon mac. On macOS Big Sur there are applications that help the transition, they are Universal 2, Rosetta 2, and Virtualization.
Universal 2
Create macOS apps and other executables that run natively on both Apple silicon and Intel-based Mac computers. According to Apple, developers can download the new version of Xcode, recompile, and running in a cross-platform manner in just a few days.
Rosetta 2
Rosetta kicks in when non-native will install or run. macOS automatically launches Rosetta and begins the translation process. When translation finishes, the system launches the translated executable in place of the original. However, the translation process takes time, so users might perceive that translated apps launch or run more slowly at times. Apple promises some better performance than the previous rosetta. In the demonstration 3D modeling and animation software Maya, and the game Shadow of the Tomb Raider running very smoothly.
Microsoft and Adobe already working with Apple to make their app compatible with the transition. Microsoft Office and Adobe Lightroom, Photoshop was demonstrated and everything is running fast, responsive, and fluid. Apple tested Photoshop and Lightroom with the heavy task but the Premiere pro is no covered and was not demonstrated. All the pro apps of Apple will be available natively like Final Cut Pro, Logic Pro and etc.
Availability
Tim Cook said – Apple Silicon mac will be available to consumers by the end of this year (2020). And it will take some time to get Apple silicon to all macs, approx two years. Surprisingly, more Intel-based mac is in the pipeline and great Intel macs on the way. macOS will continue to be built for Intel processors and supported for years to come.
No doubt Apple transition will take time "Apple silicon" will first introduce in lower end mac. Higher end devices will still run on Intel as of now.
Impact on Intel
macOS market share is about 9.5 percent worldwide. Apple makes up to 4 percent of Intel's annual CPU sales, according to a MarketWatch report. Apple is a big tech giant, and if it leaving Intel, it will hurt the image of Intel worldwide. The company has to take this step because Intel is lacking behind in performance which is limiting apple. Intel came up with many ideas for a notebook like Lakefield, etc but now Apple wants greater control over hardware. Intel Lakefield processors are what we were expecting too for MacBooks but Intel failed to retain Apple.
More stories to this will come later.