Best Broadband Plans, Comparing BSNL vs JIO vs Airtel. we are going to talk about the best Broadband plans in India and which you should consider before taking any connection at your home and workplace. There are a lot of ISP (Internet service providers) working in our country equipped with various new and old technologies, provides fiber internet, DSL internet, Wireless internet, and etc. 
BSNL, Jio Fiber, and Airtel are the major players in the market of broadband services although there are many other ISPs like ACT Fibernet, Hathway, and etc. But in this article, we gonna compare these three top broadband service providers. BSNL, Jio Fiber, Airtel has more coverage than any other. Jio Fiber/Airtel provides the max speed up to 1 Gbps and BSNL max up to 100 Mbps. Airtel and BSNL plans vary from state to state whereas Jio Fiber has the same plans in all regions. Listed some common popular plans in the all-region.
BSNL
BSNL is a government-owned telecom company that provides great coverage from urban to rural parts of India. BSNL provides a broadband connection in two ways from DSL lines and from Fiber Line FTTH (popularly known as Bharat fiber) with good plans.
There are some speed and performance restrictions in DSL line internet so you can see lower speed than fiber net. BSNL provides different plans for their DSL and Fiber connection but you can opt for DSL plans in fiber internet also but not vice versa. Upload speed is very good in BSNL, equal to what we get in download speed. Voice calling through the landline is free anywhere in India.
There are more good plans by BSNL, you can click here for DSL/FTTH and see state wise. some state has more options than others. All prices of the plan are excluding 18% GST Tax.
For rural/semi-urban places BSNL still provides the best broadband services. However, private players are working significantly to increase the coverage areas in Tier 2, Tier 3 cities as well.
Jio Fiber
Reliance Jio created a good milestone from the day it launched its 4G services for mobile. But same didn't happen with Jio Fiber, speeds are good from 100 Mbps to 1 Gbps, but initially, data caps FUPs was too low.
Now things have changed and data caps are increased significantly plus you also get many more add-on services for free like OTT service, Set-Top Box, free voice service, premium content (first-day first show) and also offers free LED TV with an annual payment of high-end plans.
For connection, you need to pay ₹2500 One Time Payment (security deposit ₹1500 + non-refundable installation₹1000).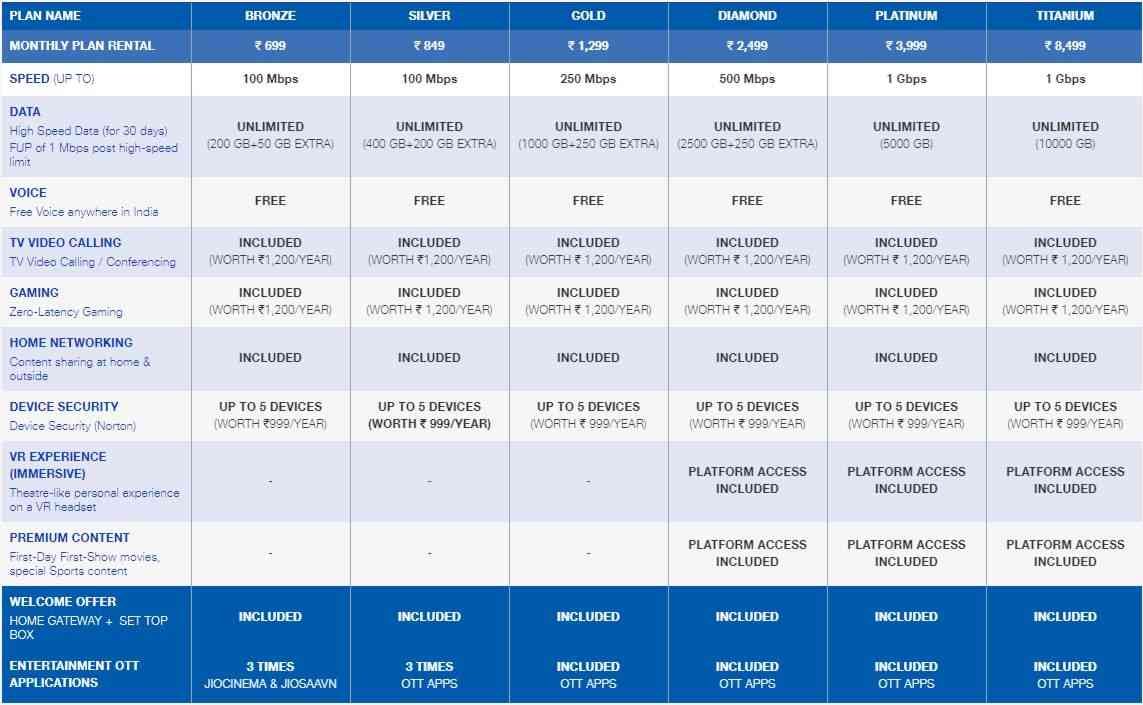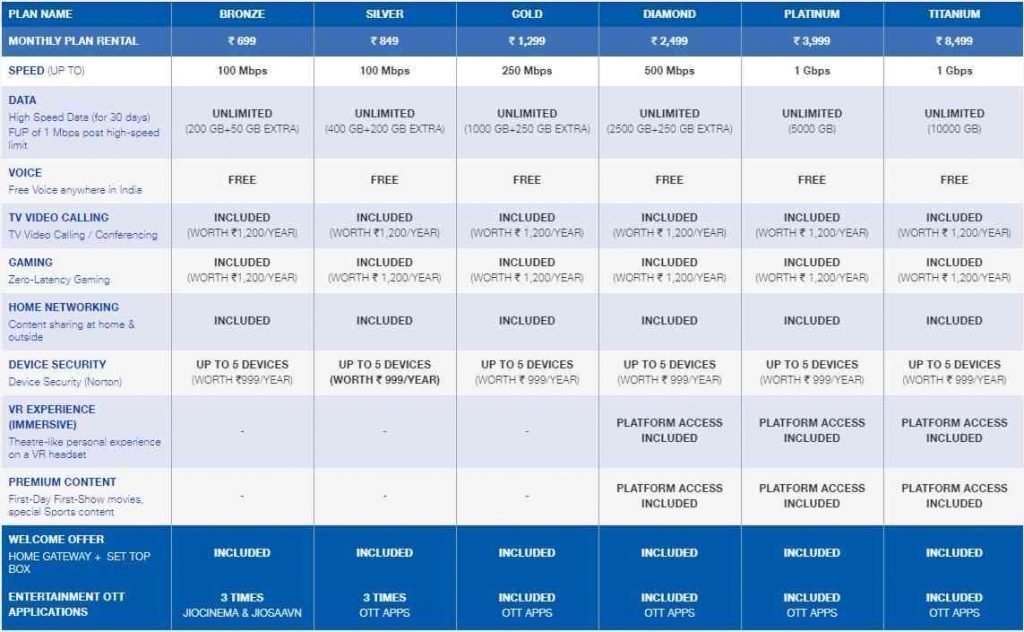 You can check more details about the plan of Jio Fiber here. Silver ₹849 and Gold ₹1299 both plans are great for home use and for small businesses. Don't see that extra GBs written in every plan, those Extra GBs are available for 6 months as introductory benefits. In ₹1299 plan speed is up to 250 Mbps up to 1000 GB + 250 GB Extra which makes it a good option. One thing you have to keep in mind is that upload speed is not as good as download speed in Jio Fiber. (For Example – if the download speed is 100 Mbps then the upload speed will be around 10-15Mbps, as of now upload is the same for all plans. I will update if something changes happen in the future.) If you have lots of uploading work then this probably going to disappoint you. Voice calling through the landline is free anywhere in India.
There are a bunch of other offers from Jio if you opt for the annual plan like 2 extra months, Double data, some devices like Bluetooth speaker, LED TV and more according to the plans.
Airtel Fiber
Step into the future of unlimited broadband plans with Airtel fibernet technology. Airtel Fiber is one of those who is rivalling Jio Fiber in speed, provides up to 1 Gbps. Airtel Fiber broadband also gives extra benefits like Amazon prime and Zee5 subscription and Airtel Xstream. Voice calling through the landline is free anywhere in India. Internet speed in Airtel fiber is good but the data caps little disappoints us. Upload speeds are good almost equal to the download speeds of the respective plans.
As you can see "Basic Plan" cost you ₹799 speed is up to 100 Mbps but the FUP limit is up to 150 GB which too less for the amount we pay. same as "premium plan" cost you ₹1499 speed is 300 Mbps but the FUP limit is only 500 GB which again too less for the speed we are getting. There is an option to get unlimited data at an additional payment of ₹299/Month with every plan you select. Which increases the overall billing cost but becomes more value for money if usage is very high. Get more details here on Airtel and read all terms and conditions also.
Conclusion
Now if you want to choose your best broadband plan in India between these three internet service provider (BSNL/Jio/Airtel) than all three provider offers good services and products. According to your personal need choose your ISP. BSNL and Jio fiber provides great value in terms of price to performance ratio and FUP Limits are also good. Jio Fiber has very less upload speed compared to their download speed so that's the thing you have to keep in mind. Overall speed and high-speed data limit is well balanced in both Jio Fiber and BSNL, although BSNL speed is limited to max 100 Mbps to their high-end plan also as of now. So if you want more speed, then Jio fiber and Airtel fiber will suits you best because both are offering up to 1 Gbps connection.