A UPS for a router is uncommon in homes and some offices, but it is worth if you do a lot of internet works. Backup power is important for your computer, laptop, router, etc. Especially in work from home and online classes like scenarios. Unfortunately, a power outage may occur at any time between your work.
Most of the time, we connect the desktop computer with backup power, laptops/Smartphones/TAB are already battery power, but we forget the internet router. It's good if you already attached UPS to the router.
Every time if your internet gets disconnects after a power outage and other devices stay running. Undoubtedly, you need to connect your router to power backup.
If you have a home inverter, UPS, Solar power, therefore, attached the internet router to any backup source. In case you need a separate small size compact UPS for a router. Here are some of those listed below.
Resonate UPS for Router
Router UPS are compact in size and have less weight. Resonate offers two types of UPS.
One device UPS
Dual device UPS.
Dual device UPS is helpful if you have ISP ONT/Modem and one additional router.
These Resonate UPS are compatible with leading router brands as well as with routers provided by leading broadband ISPs. Also, you need to see the voltage (V) and ampere (A) requirements of your setup while buying any of the UPS. They are available in different power ratings like 12V<=3A,12V<=2A, 9V<=1A, 5V<=2A.
Resonate claims up to 2/4/6 hours of power backup in their different power rated models. Installation is easy and comes with one year warranty. Starting at ₹1999.

Zinq Technologies
Zinq Technologies router UPS offers up to 4 hours of backup, easy installation, one year warranty, etc. It Includes 4 connectors, of which 2 are for input and 2 are for output. The power rating is 12V 2A and the battery capacity is 6000mAh. Starting at ₹1399.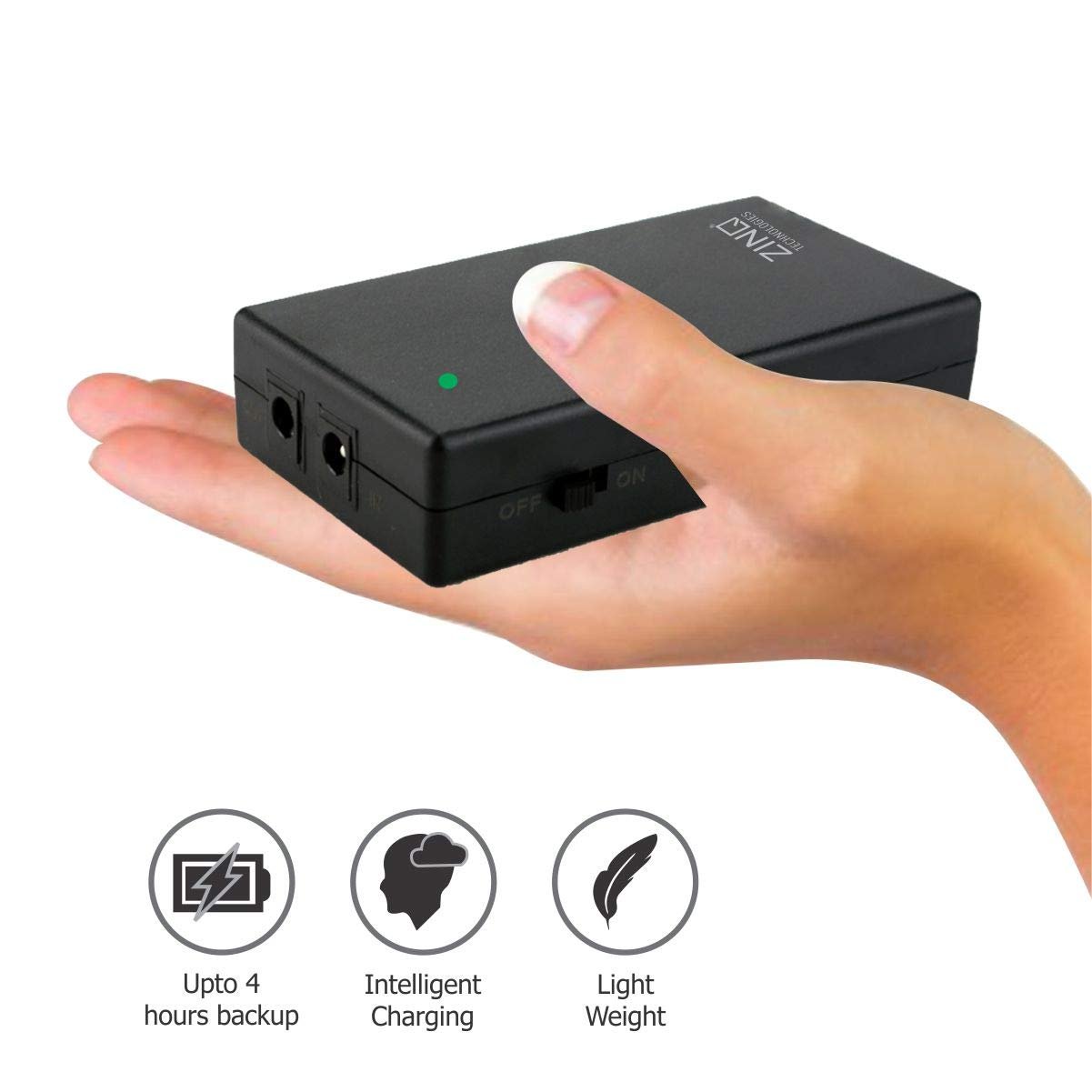 Other options
Regular UPS of 600VA, 1000VA can be used too. Generally, we use this to power desktop computers and other peripherals. They are bigger, not portable compare to mini UPS and might provide you less backup time. However, you don't have to worry about the compatibility and power rating.
Conclusion
Absolutely, you can buy one of the compact size mini routers UPS for your home and office use. If you are frustrated with frequent power cuts and you need the high-speed internet to be working.