After a lot of hype, teasers, and leaks, Intel's Arc Alchemist Discrete GPU has finally hit the market. Some Intel Arc features will definitely attract attention. Currently, A-series mobile graphics for laptops are available in limited models. More models of Arc GPUs are due to launch in early summer, including Intel's first Arc desktop graphics card.
Currently, Intel Arc A-series has three models. They are Arc 3, Arc 5, and Arc 7 mobile GPUs. A total of six mobile GPU SKUs are present with hardware-accelerated ray tracing, XeSS super sampling, XMX AI acceleration, DirectX 12 ultimate, and PCI-e 4.
Intel Arc 3 – A350M, A370M (Available now)
Intel Arc 5 – A550M (Early summer)
Intel Arc 7 – A730M, A770M (Early summer)
Although we don't have any real independent benchmark numbers, there are a few industry's first features in the GPU. Intel has revealed its benchmarks where they compared the Core i7 1280P's Iris Xe graphics with the Arc A370M. Indeed A370M outperformed as expected as it is a discrete GPU. Unfortunately, no Nvidia or AMD mobile GPUs are part of the company's benchmarks.
However, AMD shared a tweet showing benchmarks of Radeon 6500M and Arc 370M. That clearly shows that Intel is far behind in raw performance numbers. Not including any Nvidia/AMD GPU in the official launch, hinting that Intel isn't completely ready.
Intel Arc Features
Despite all this, Intel Arc has some newer tech in its Xe microarchitecture, like the more advanced Xe media engine, Intel Arc control, and Intel Deep Link.
Xe media engine offers the industry's first hardware-accelerated AV1 encode and decode, including VP9, AVC, and HEVC. For context, AV1 is up to 50% more efficient than today's most common codec, H.264, and 30% more efficient than H.265. The media engine decode video up to 8K 60 in 12-bit HDR, whereas it encodes up to 8K 10-bit HDR.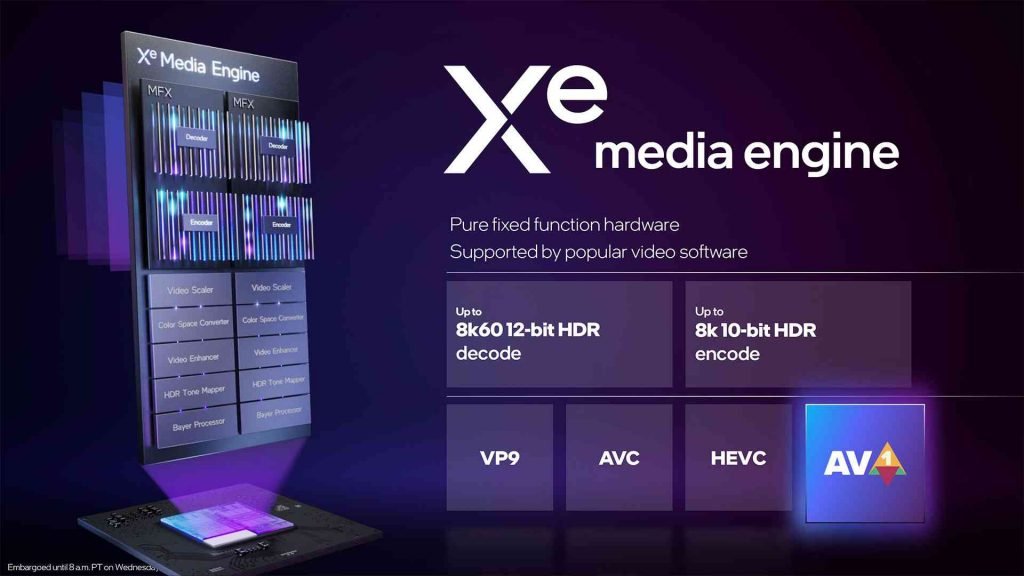 Intel Arc Control software gives full control over the Arc GPUs. The Arc control interface provides the option of custom profiles, built-in streaming, integrated driver updates, game capture, performance tuning, and more. Moreover, these features are available without any login.
Through Intel Deep Link, the applications can utilize Intel CPU's integrated GPU and Arc GPU to boost performance for gaming, creating, and streaming. It combines media engines, computational power, and AI engines found across the entire Intel platform to accelerate the workloads.
Basically, content creators can leverage all these features for their benefit, especially the Xe media engine and Deep Link.
I have to say Intel has given as many things as possible with their newer Arc GPU. However, it will be too early to comment on anything as no independent reviews are online, and only Arc 3 series is available. As Arc 3 is an entry-level dGPU, so we know that features like ray tracing and XeSS won't run smooth and can't tell the true potential.