Intel's Alder Lake was an exciting launch for the first time after years of struggle. Finally, this year Intel has launched the remaining "non-K" SKUs of 12th gen Alder Lake CPU. Surprisingly, the most awaited 12th gen Core i5-12400 significantly outperformed Ryzen 5 5600X in gaming and productivity benchmarks.
The top "K/KF" SKUs of the Core i5, i7, and i9 are already available with the Z690 motherboard since Q4,2021. Undoubtedly, Intel's Alder lake is creating huge trouble for AMD's whole Ryzen 5000 CPU lineup. AMD doesn't offer any new generation low-budget CPU, whereas Intel has a great offering. The new Alder Lake architecture and Intel 7 process node are giving a huge advantage.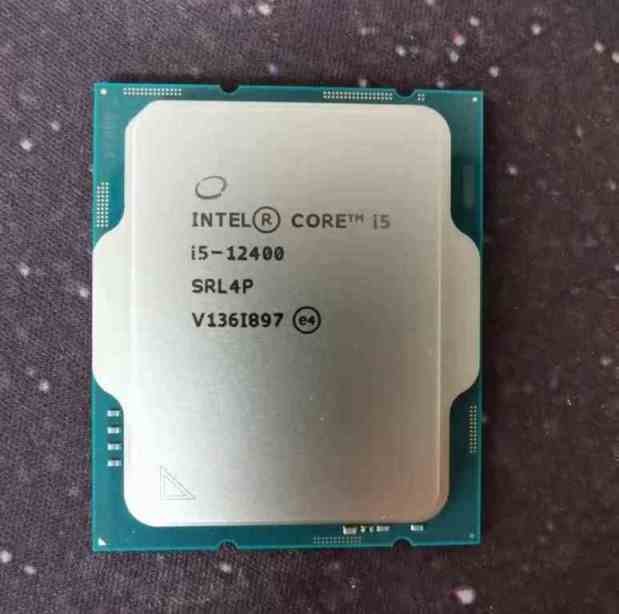 Core i5-12400 has 6 performance cores and 12 threads (No E-Cores) with a max single-core boost frequency of 4.4 GHz, whereas the base frequency is 2.5 GHz. It has a total of 18MB of Intel smart cache. Moreover, the processor is rated 65W but can consume up to 117W under the peek turbo boost. Intel decided not to give any efficient cores (E-core) to the non-K variant of Core i5. Similarly, Core i3 lacks E-cores too. It supports DDR5 4800 MT/s memory.
The 12400 will come with a new RM1 stock cooler from Intel. It is designed for 65W i7, i5 CPUs. Since this is a new stock cooler, we don't have any performance numbers right now.
Productivity Benchmarks
Starting from the productivity test – in Cinebench R20, the Core i5-12400 scored 646 in singe threaded and 4754 in a multi-threaded test. The 12400 is 7.5% fast in single and 10% faster in multi-thread against 5600X.
Similarly, the 3D renderer V-ray benchmark shows that the 12400 is 3% fast while 4% higher performance in Corona renderer compare to Ryzen 5 5600X.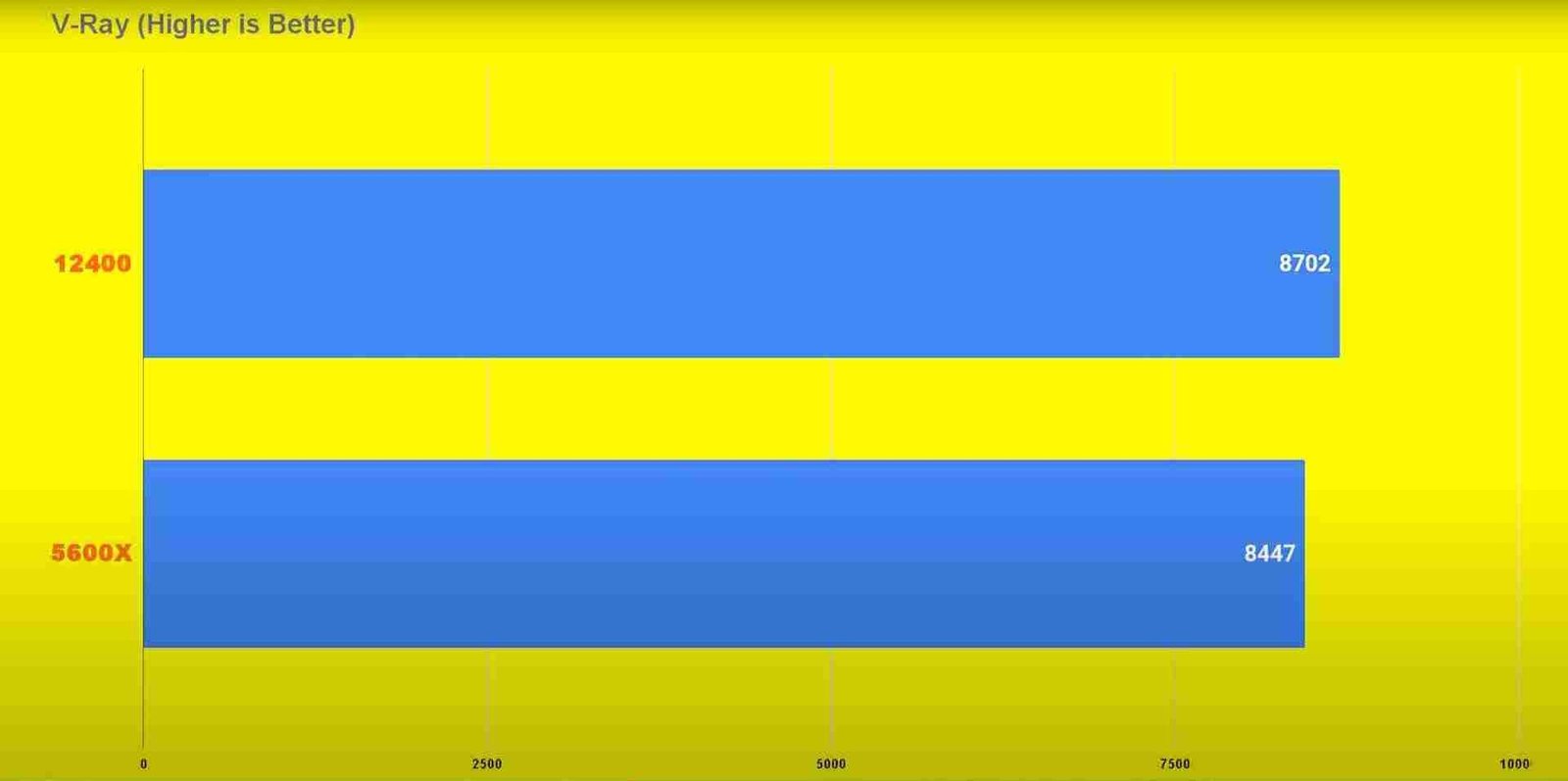 In synthetic workload like 3D-Mark Time Spy Extreme, the core i5-12400 score 4318, which is 4% higher than 5600X.
Core i5-12400 – Great on Gaming
Let's talk about gaming FPS numbers. Here, the Core i5-12400 shines with a higher FPS number than the Ryzen 5 5600X. The 5600X is used to be the best gaming CPU, but Intel defeated 5600X with a cheaper Core i5. Hence, Core i5-12400 automatically became the best budget gaming CPU out there.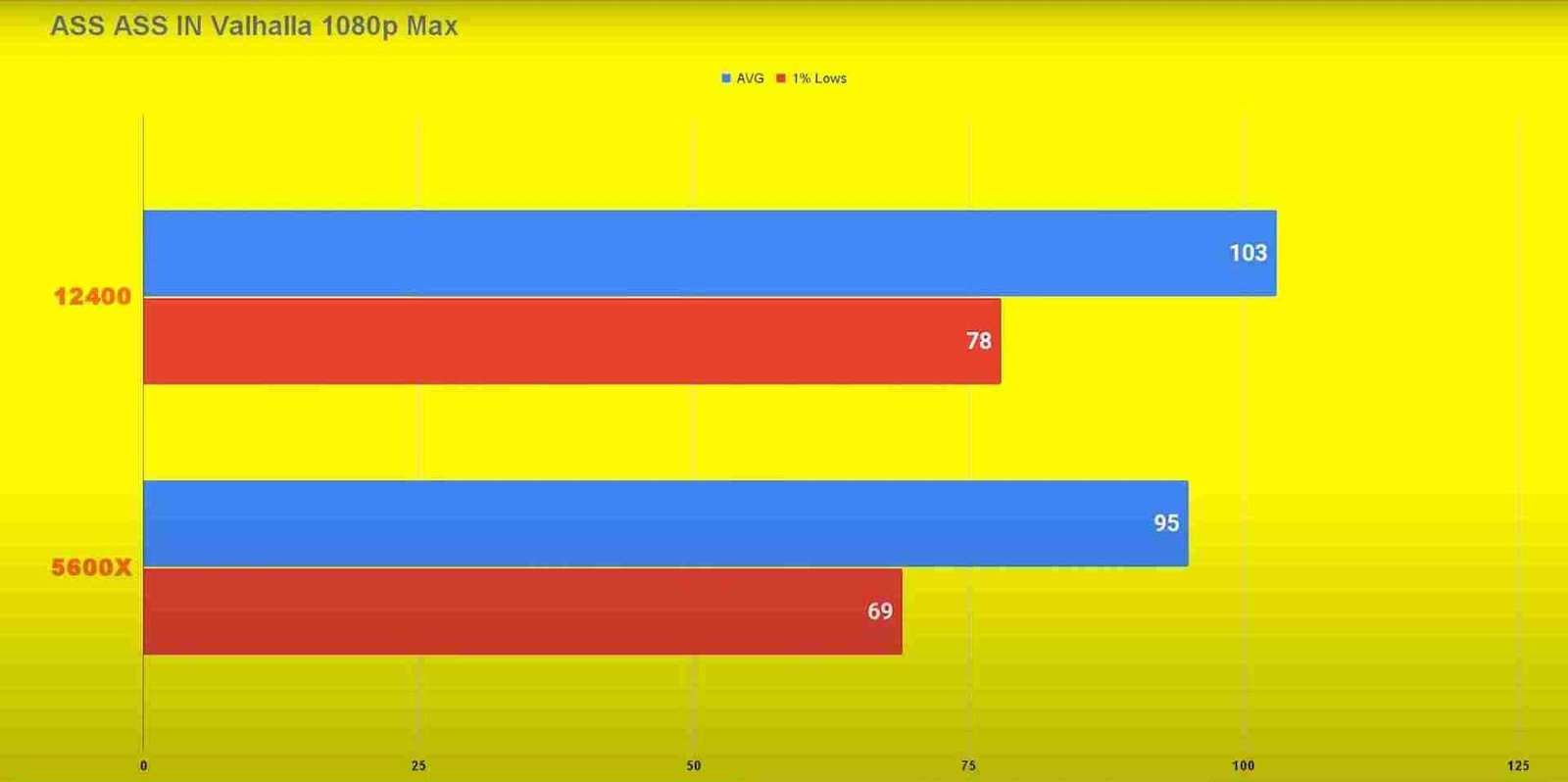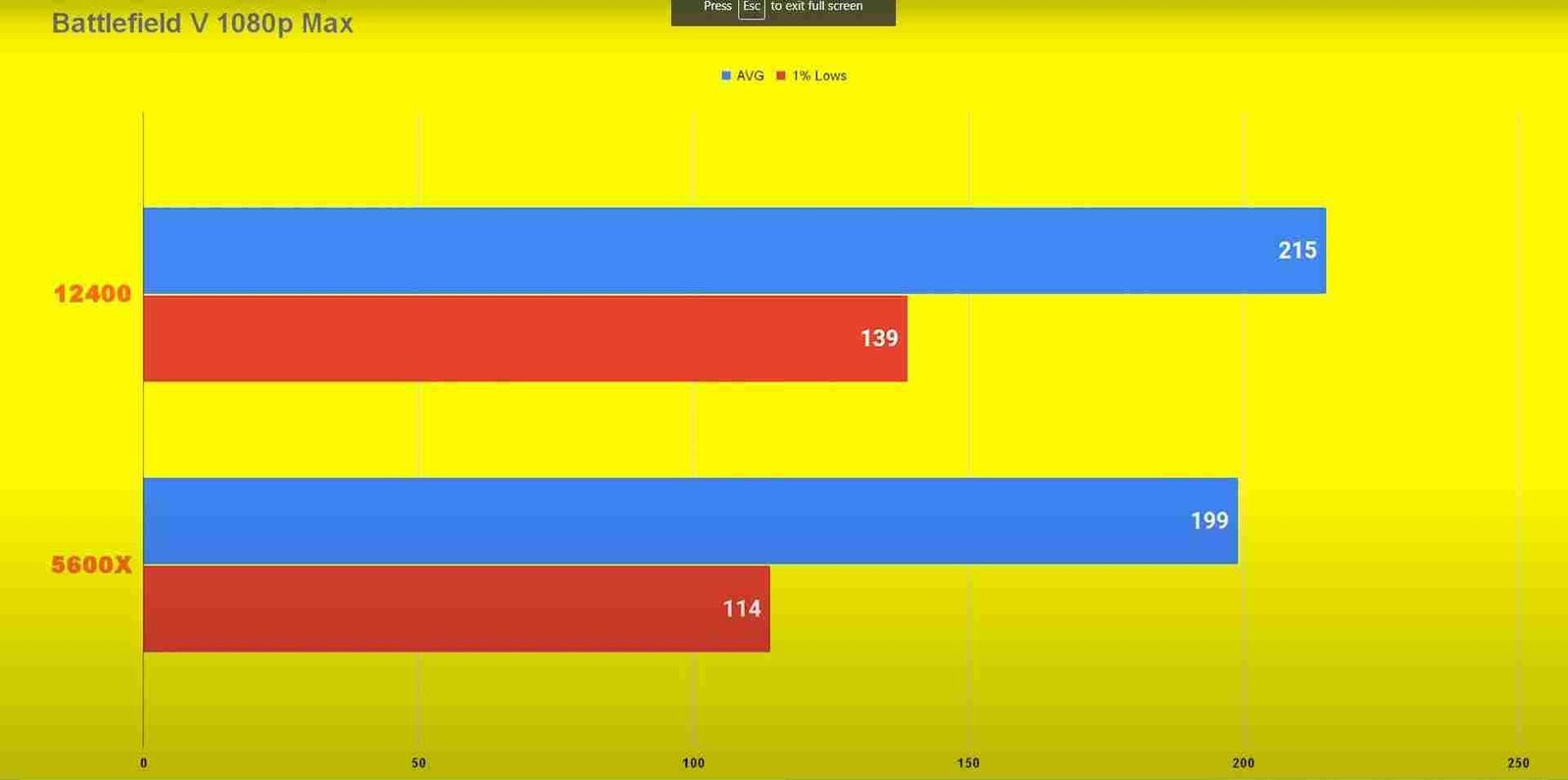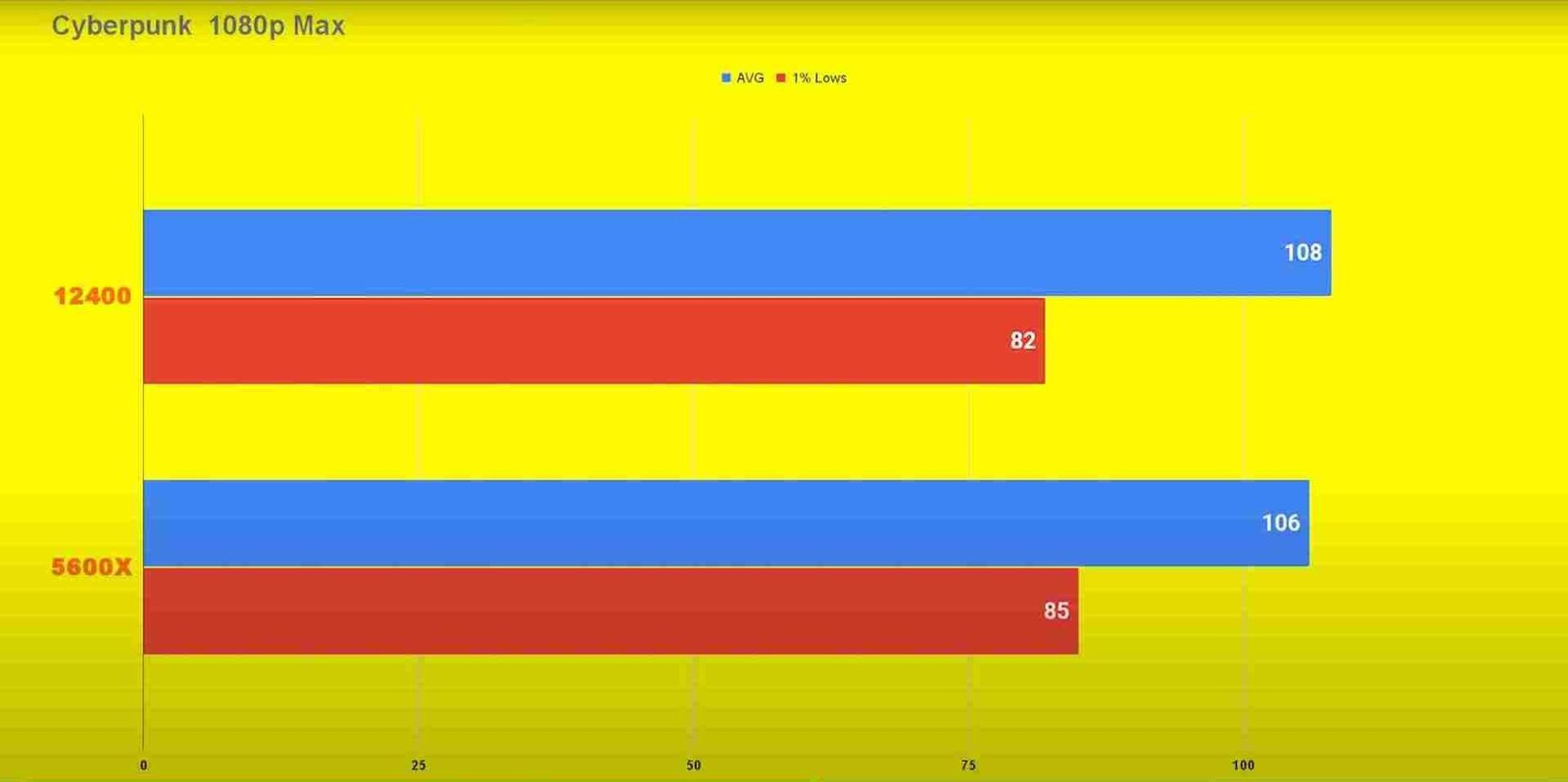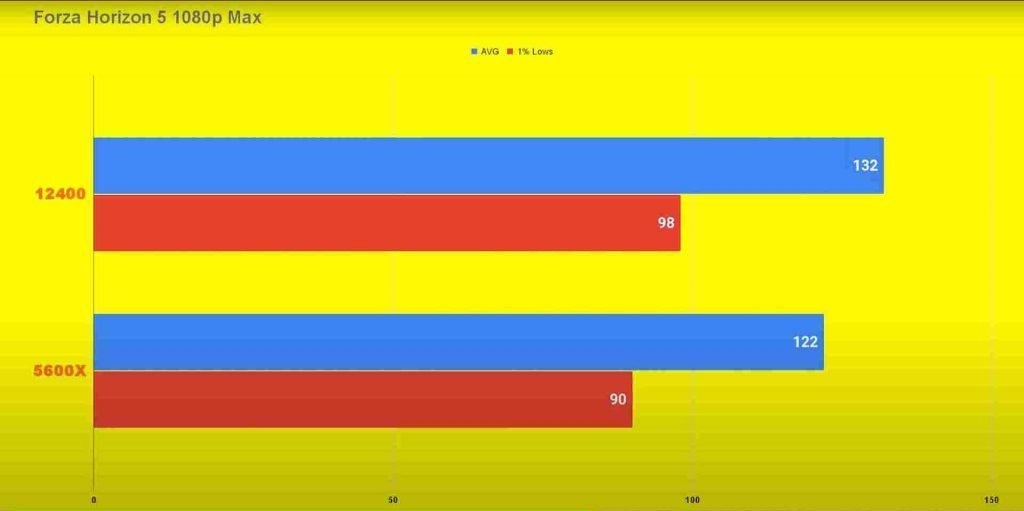 Overall the Intel Core i5-12400 is around 7% faster than Ryzen 5 5600X in gaming performance. The gaming benchmarks are all taken in 1080p max settings.
Price
Intel launched the Core i5-12400/F at $192 ()/$167 () but currently retailing at $209/$179 on newegg.com. The Indian price is around ₹17,000 for a 12400F and ₹19,000 for a 12400.
Conclusion
Undoubtedly, the Core i5-12400 wins against Ryzen 5 5600X in almost every benchmark. Which makes the 12400 a very capable CPU both for productivity and gaming. Also, you can buy 12400F, which lacks an iGPU, which could potentially save some money.
AMD has to heavily discount the 5600X to make it priced below the Core i5-12400 to compete in the market. Also, low-cost H610, B660, H670 chipset motherboards are available to pair with budget Alder Lake CPUs. It's better to pair the 12400 with DDR4 memory as the current DDR5 RAM shortage would add extra expense.
Benchmarks are taken from PCWale (YouTube) and The TECH Nation (YouTube)