The new 12th generation Intel Alder Lake has launched, and many users are interested in Core i5-12600K. Surprisingly, the Core i5 has defeated Ryzen 5600X by a large margin while costing less. Generally, these Core i5 and Ryzen 5 lineup processors provide ideal performance in both gaming and light to medium productivity work.
New Intel 7 process-based hybrid architecture Core i5 12600K has 10 cores /16 threads (6 P-core / 4 E-core). However, Ryzen 5600X is only a six-core processor. Despite the higher core count, the price to performance ratio favors Intel and makes it on the recommendation list. Support of DDR5 and PCIe 5.0 enhances future-proofing.
We have already covered the full specification and other details of all available 12th gen Alder Lake SKUs. The official price for the Core i5 12600K is $289, and the 12600KF is $264, but they're currently retailing for between $300-320 in U.S. "KF"-non iGPU based CPU selling price will be lower.
Undoubtedly, the chip shortage and the upcoming huge demand would affect the price. AMD has no choice other than to reduce the prices of the current Ryzen 5000 processor. The race to become the best gaming CPU and best mid-range CPU is now very aggressive.
The Core i5-12600K/KF has a max turbo frequency of 4.9 GHz on the P-Core and 3.6 on the E-core. Intel smart cache is 20MB.
Core i5-12600K Benchmarks
Productivity Test
In Cinebench R23 Core i5-12600K scored 1904 in single-threaded and 17,514 in multi-threaded workload whereas, Ryzen 5-5600X scored 1523 and 11,504, respectively. The Core i5-12600K is 25% and 52% faster than Ryzen 5 in the single-threaded and multi-threaded tests. 
In Blender, BMW27 3D render test, the Core i5 completed the task 36% before 5600X. The i5-12600 and 5600X finished in 144.5 and 226.8 seconds, respectively.
Furthermore, In the Corona renderer benchmark, 12th gen Core i5 12600K has a significant 29% lead over Ryzen 5 5600X.
Adobe Creative Cloud applications are very important to many content creators, especially for photo and video editors. Adobe Premiere Pro takes more advantage of high cores, iGPU, etc. In Pugetbench Premiere Pro, Core i5 is 24% faster than 5600X with iGPU off. Similarly, In PugetBench Photoshop, i5-12600K has a 14% lead over Ryzen 5 5600X. However, Intel is slightly slower at 5% on Puget After Effects.
Office utilities
After the numbers in 3D rendering, photo and video editing seem exciting enough. It is interesting to see how the chip handles office tools like Microsoft Word, Excel, PowerPoint, etc. Overall, the Core i5-12600K is 12% ahead of Ryzen 5 5600X. In detail, 16% in Word, 20% in Excel, 5% in PowerPoint, and 10% in Outlook.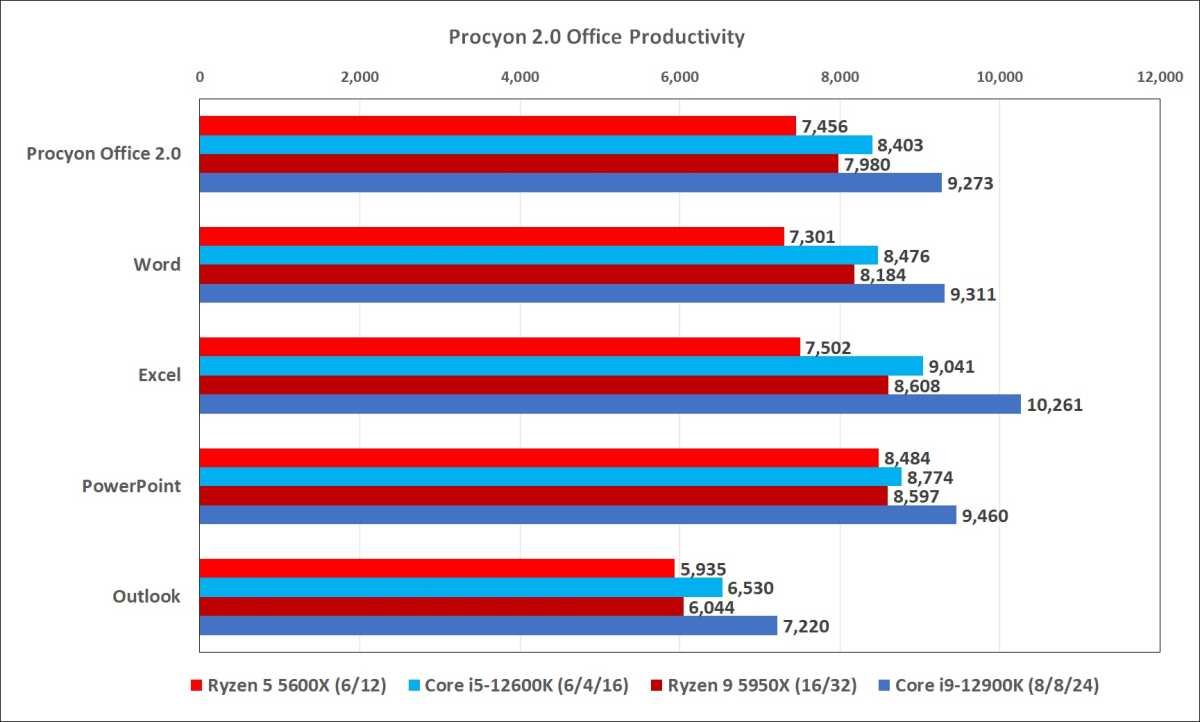 Gaming Tests
Good gaming performance is indeed necessary with a CPU at this price point. Nowadays, any CPU from Intel and AMD can handle and give enough FPS gaming experience in this segment. Probably, the major bottleneck would be a mid-range graphics card generally used with Core i5. Also, high-resolution gaming is more GPU bound than CPU.
As low-resolution gaming puts more stress on the CPU, according to 1080p gaming benchmarks, Intel has regained its gaming crown. On average, the Core i5-12600K delivers 10% more fps in gaming than the 5600X. Here, we can recommend Core i5 as the best gaming CPU in the segment. 
In addition, Windows 11 and games are being optimized more for Intel's hybrid architectures (P-Core and E-Core). So, maybe later we may see some more improvements. Also, the P-Core and E-Core will be best used during multitasking like gaming, recording, and streaming. According to Intel, the gaming performance will not hurt while recording or streaming as the E-Cores will handle all the background streaming tasks and give a seamless experience.
Power consumptions
Intel rated the Core i5-12600K processor base power is 125W, and maximum Turbo Power is 150W. That clearly shows that the Core i5 would run much hotter than 65W Ryzen 5 5600X.
Intel rated the Core i5-12600K's processor base power is 125W while the maximum Turbo Power is 150W. That clearly shows that the Core i5 would run much hotter than 65W Ryzen 5 5600X. However, most of the time, including gaming, the power consumption is below 150W while idle at 55W. But can go up to 220W when utilized heavily.
Conclusion
Results clearly show that the winner is Intel. In terms of comparing both CPUs, Core i5-12600K/KF and Ryzen 5600X, the Core i5 is a better pick. Also, the new platform provides a huge generation leap over the previous 11th Gen Rocket Lake Core i5. Currently, you can pair the 12th gen Intel CPU with an expensive LGA 1700 socket-based Z690 motherboard.
Initially, DDR5 RAM would be more expensive than DDR4 although, Intel has DDR4 support for all 12th Gen Alder Lakes. So, DDR4 based 600 series motherboard will come later.
An increase in per core IPC and single-threaded performance created big trouble for AMD. Due to hybrid architecture, the game developer could find a creative way to utilize both P-core and E-core. For now, Core i5-12600K has become the first choice in the segment.