Another appealing product in Intel 12th Gen Alder Lake is Core i7-12700K/KF. This product sits right between the Core i5-12600K and Core i9-12900K. Also, AMD Ryzen 7 5800X is standing below Core i7 in the performance chart.
Intel is well aware of the market and kept the price of Core i7 aggressive. YES, Intel is also competing in price with AMD. The Core i7-12700K/KF official price is $409/$384, whereas they are currently retailing between $430-450 (₹38,500). On the other hand, Ryzen 7 5800X is selling at $384 (₹34,300).
All prices are from online stores located in India, the USA, and more. Prices are as per currently available stock and may change later.
Core i7-12700K/KF has 12 core/20 threads (8P-core and 4 E-core) with a max boost P-core/E-core frequency is 4.9/3.8 GHz. It can reach up to 5.1 GHz when Intel Turbo Boost Max 3.0 activates. It has 25 MB of L3 cache and 12 MB of L2 cache. DDR4 3200 MT/s and DDR5 4800 MT/s supported.
The rated processor base power is 125W, while the maximum turbo power is 190W. The "K" model has a new Xe-based UHD 770 graphics, but the "KF" variant lacks iGPU. And the 12th Gen Alder Lake uses the Intel 7 process node.
Core i7-12700K Productivity Benchmarks
In Cinebench R23, the multithread score is 22784, and the single-thread score is 1949. Core i7 is 11% faster than 5900X and 50% from 5800X wheres, 47% lead over Core i7-11900K.
In a Single thread, 12700KF gives a 23% lead over 5800X and 5900X.
The 7-Zip compression and decompression test favor AMD. Core i9 is slightly 3% faster than Core i7. And 12700KF is 5% slower than 5800X. However, in decompression, there is a near similar score (Tie) between 12700KF and 5800X. Both the chips are 17% slower from 12900K and 30% from 5900X.
In Corona renderer, the Core i7-12700KF has defeated 5800X by a considerable margin. Here, 12700KF delivers 30% more performance over 5800X and is only 9% slower than Ryzen 9 5900X.
According to Gamers Nexus, In the Blender run, 12700K finished a task 4.2 minutes (36.5%) sooner than 5800X. Also, the result is nearly identical to 5900X.
Adding Chromium Code Compile in the benchmark list for the programing performance. Here, Core i7-12700K has taken 40% less time over Ryzen 7 5800X. Even 1.7 minutes less than 12 Core 5900X.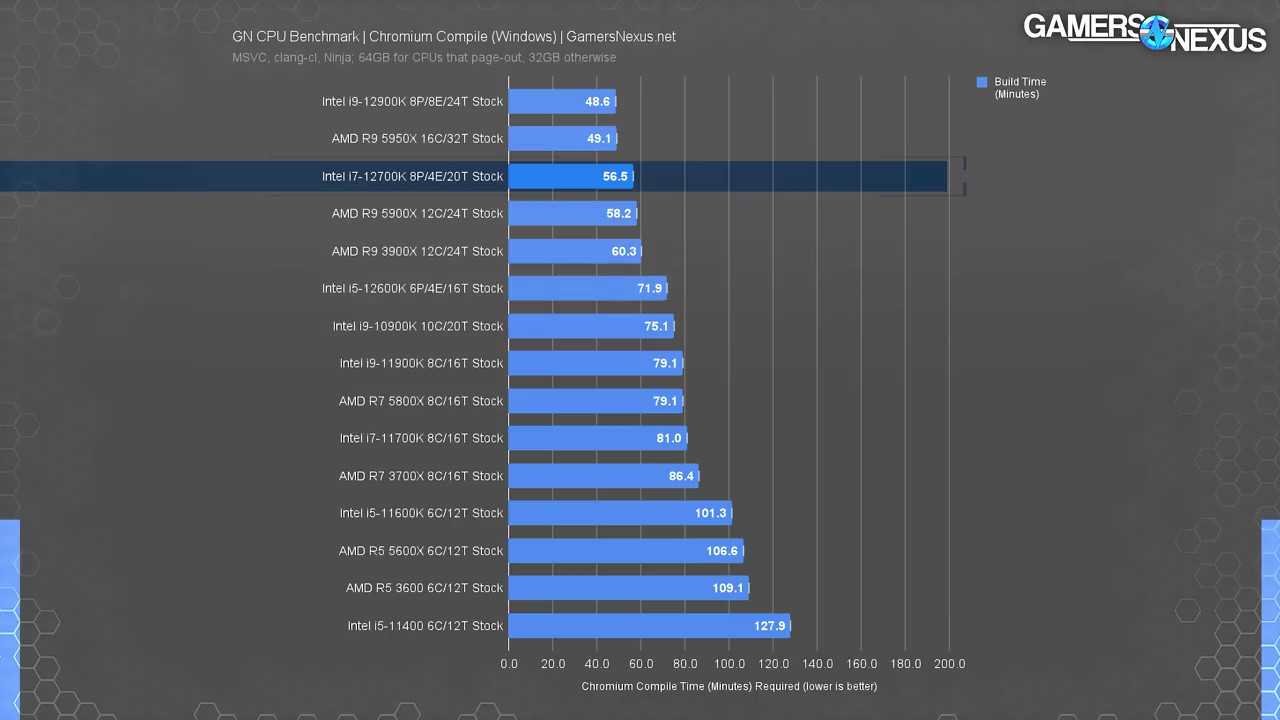 Let see video editing and photo editing results. Core i7-12700K scored 13% more than 5800X in the Puget Premiere Pro. Which is very near to 5950X. Moreover, In Photoshop CC, single-digit 8% growth over 5800X and 3% lead over 5950X. Similarly, Core i7 gives an 8% lead in After Effects, compared to both 5800X and 5900X.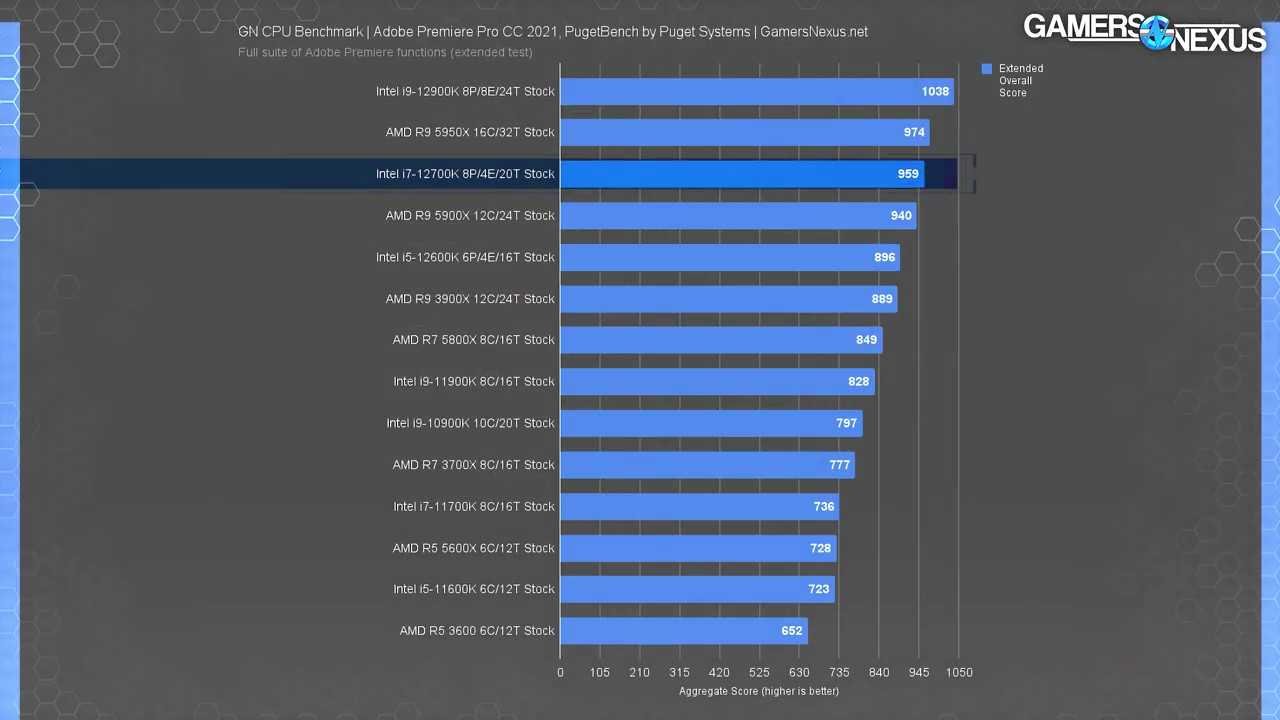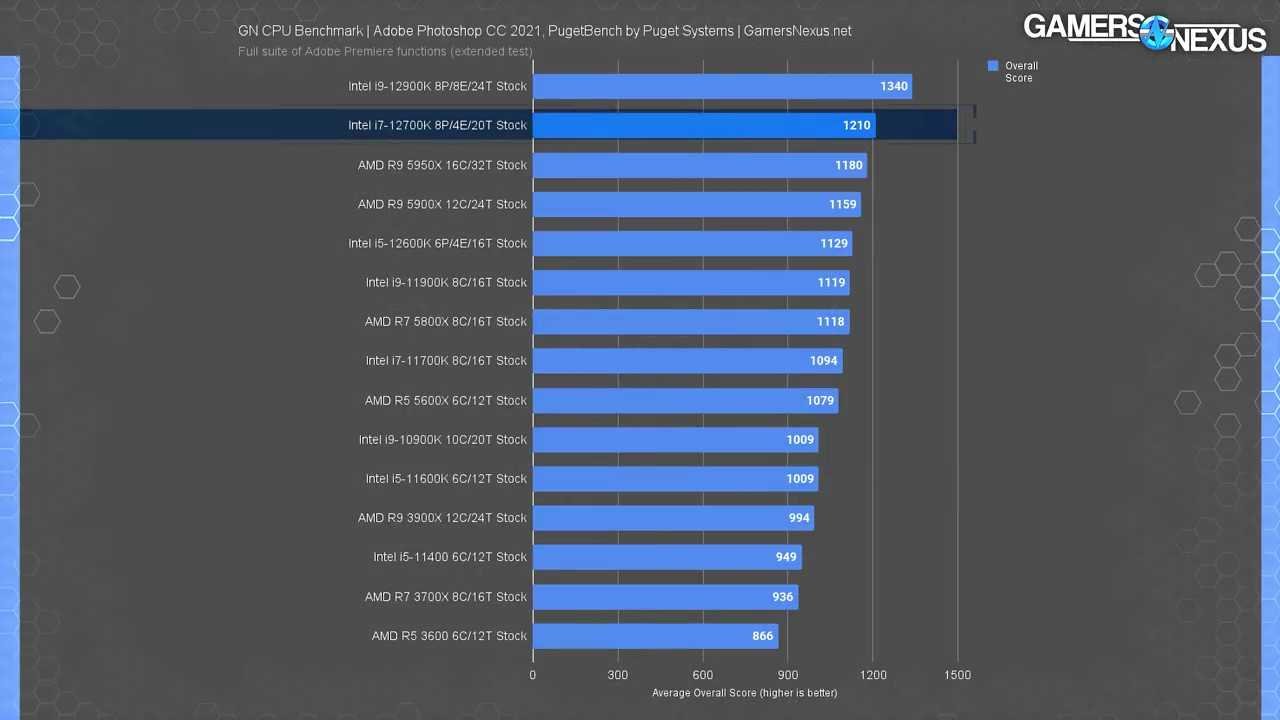 Game Benchmark
As per the average of 10 games benchmark. No significant improvement between Core i7-12700K/KF and Ryzen 7 5800X. Intel provides 1.5% more FPS on average than AMD. Nowadays, modern CPUs of both Intel and AMD are powerful enough to give a good FPS number in gaming.
However, the differences in FPS you won't notice unless a high-end GPU (RTX 3090, RTX 3080 Ti, etc.) is attached. Also, few FPS differences may not be recognized unless compared side-by-side. But Intel does have the gaming lead, to become as best gaming CPU.
Conclusion
Undoubtedly, 12th Gen Core i7-12700K outputs a better number than its competition. Meanwhile, AMD has no choice left other than to reduce the price of its Ryzen 5000 CPUs.
Currently, only the Z690 motherboard is available for the new 12th Gen Alder Lake CPU, which is expensive. However, there are cheaper motherboard options available with AMD, such as the B550 or older 400 series motherboards that can also be used.
The current retail price of Ryzen 7 5800X is around $384 (₹34,300), but if we combine the price of the CPU, motherboard, and RAM (DDR5). AMD's performance is justified for the price. Some leaks show that AMD is planning to reduce the price furthermore. Until cheaper Intel alternatives become available, which will be available in 2022, AMD could play the price game.
** Benchmarks are taken from Techspot.com and Gamers Nexus (YouTube)