The power consumption has increased significantly with the latest PC parts, especially the graphics card and CPU. In addition, the existing ATX 2.0 standard was introduced in 2003, which is too old now to handle the upcoming advanced devices. While not much has changed in several years, Intel's new PSU standard will be a critical update to complement modern PC performance, efficiency, durability, etc. However, some modifications are done in ATX 2.0 (like ATX 2.1, 2.2, 2.3, 2.4) to meet the present-day standards.
With ATX 3.0 specs, compliant PSUs coming to market will be essential for desktop users that want to get the best possible performance from their next-gen PCIe 5.0 desktop graphics cards. These next-gen cards are going to be bigger and more powerful than before. Users will be able to maximize their system performance by having the proper power supplies in place.
New 12VHPWR power connector for GPU
There will be a new 12VHPWR connector for PCI-e cards like GPU. A single 16-pin (12+4) 12VHPWR connector can deliver up to 600W power. The connector power delivery may vary between 150w to 600w depending upon what model and wattage PSU you choose. Currently, a single 8-pin PCIe power connector supports 150W of power. With that in mind, the 3×8-pin can output a maximum of 450W. Be ready future GPUs may eat more power than ever before.
PSUs over 450W must have the new 12VHPWR connector to meet the latest ATX standard. The new connector has 12 power pins and 4-sideband sense pins. A PSU can send its capabilities report to a PCIe card using 4-sideband sense pins, after which the PCIe card can set its power limits accordingly.
Nvidia RTX 3090 Ti has a 12VHPWR 16-pin connector type, and card makers have bundled an 8-pin to 12-pin/16pin converter, despite the ATX 3.0 PSU not being available. Also, it is not possible to make 4-pin sideband work with legacy converters.
Intel recommends that PSU manufacturers should label or provide at least information on the PSU timings T1 (power-on time) and T3 (PWR_OK delay) to allow mainboard manufacturers to optimize the turn-on time. Also, the 12VHPWR connector will be labeled with the max power it can deliver.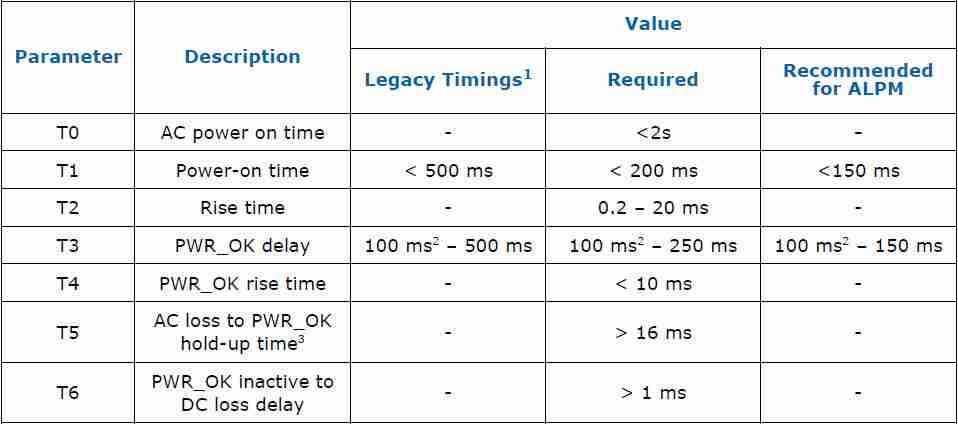 Handle 200% Power Spike
Moreover, the new PSU standard ATX 3.0 says that the >450W PSU should be able to handle 200% load of its rated wattage for 100 microseconds. This is because today's processors and graphics cards are showing sudden high power spikes during some workloads. To fulfill and handle that kind of power spike new standard is needed.
For durability, the new standard recommends that the PSU should turn on/off 175,200 times per year of its life. However, most modern PSUs already offer a sufficiently good life span.
New PSU Standard with "Cybenetics Certifications"
Furthermore, we are aware of the "80 PLUS" certification for PSU efficiency at various loads. A new certification agency Cybenetics has been added for power efficiency and noise level certification. Also, low load efficiency is now changed to Above 60% for 10W or 2% of max-rated capacity, and above 70% is a recommendation.
Conclusion
These are the guidelines that Intel has set for PSU manufacturers. It is up to the PSU manufacturer whether to adopt all the standards or not. For sure, the new ATX 3.0 standard will affect the price of the PSU. Hence, manufacturers may reject some ATX 3.0 norms to keep the price low.
There are significant changes in ATX 3.0 to meet future device requirements, especially the 16 pin 12VHPWR connector for GPU. The important feature is that the PSU with 12VHPWR can bear a power spike up to 200% of its rated capacity.
Another significant change is that the PSU manufacturer must label information on PSU like PSU timing, 12VHPWR connector wattage, etc.