Everyone is wondering about Intel's ARC GPU lineup and performance output. Intel is planning to target the low end and mid-range segment graphics card market.
On Architectural day, 2021, Intel released information on the Alchemist (DG2) ARC gaming graphics card. The new ARC GPUs will launch in Q1, 2022.
As shown in the leaked slide, the proposed DG2 lineup would have two SOCs. The SOC1 with TDP of 175W- 225W, and SOC 2 with a TDP of 75W.
The mid-range SOC1 would go against RTX 3070, RTX 3060 Ti, RTX 3060, RX 6700 XT, RX 6600 XT. And SOC2 would target low-end $100 – $200 GPUs like GTX 1650 Super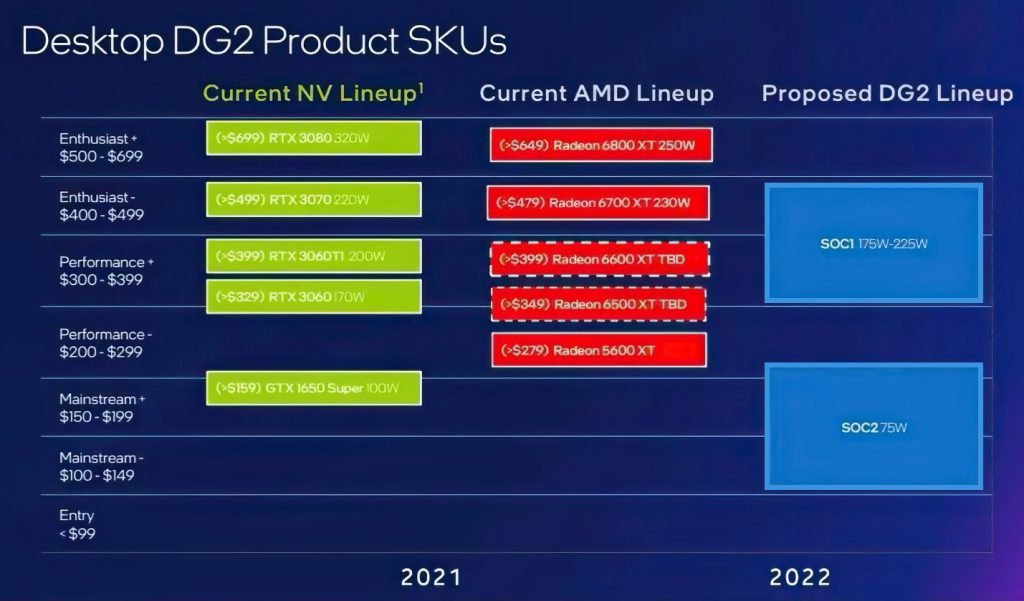 The low-end segment has been completely ignored as there are no new generation cards available by both Nvidia and AMD. Moreover, the majority of gamers buy low-end and mid-range cards ($200 – $500, approx up to ₹45,000). Like GTX 1650 Super, GTX 1660, RTX 3060, RTX 3060 Ti, RX 6600 XT, RTX 3070.
We all know that the GTX 1060 is so popular due to its price and performance. In Nvidia, the XX50, XX60 series graphics cards are considered to be the best selling.
The current graphics card market is messed up by mining, silicon shortage, etc. Even a low-end card is selling at a mid-range price.
If Intel targets the most popular segment of GPU, that too with aggressive prices, then no one can stop Intel ARC GPU to become a gamer's choice. Intel needs to do something new, and for now, the new thing is the price, nothing else.
Nvidia and AMD are already offering advanced features like Ray tracing, DLSS, FSR, etc. Nvidia's offering is top-notch whether we talk about ray tracing or DLSS. In that situation, Intel can do a price battle to gain a mass-market share.
It's better to build a product for a large number of gamers rather than high-end for a few. In 2022, we may get more budget segment graphics cards.