Nvidia is likely to announce a new Geforce Ampere based RTX 3000 series graphics card on September 1, 2020. Nvidia has teased the event countdown in twitter as "UltimateCountdown". On this day Nvidia will complete 21 years of GPU journey. Geforce 256 is the first-ever Geforce card which was announced on August 31, 1999.
Rumors are all over about the Ampere GPU and most probably we will see something on the September event. The release date will be different as usual, products go on sale long after the announcement date. Maybe the higher-end card we see first and then a lower-end card like things happened with RTX 2000 series.
Real-time ray tracing started from Turing and getting better with time, for the same Ampere may hit the new milestone. 4K gaming with ray tracing could be more awesome than before. Furthermore, again Nvidia could take the crown for having the fastest graphics card ever.
RTX 3090 Rumored Specs
The Process node will be TSMC 7nm, 12 GB of GDDR6X memory chips. The VRAM speed of 21 Gbps and 384 Bus width makes total memory bandwidth of 1 TB/s. Some also suggest that the memory speed will be 18 Gbps makes 864GB/s of memory bandwidth. This is the first time Nvidia's GPU hitting 1 TB/s of memory bandwidth using regular GDDR6X (AMD Radeon VII has 1 TB/s bandwidth via HBM2 memory). There is a post from Micron which gives solid information about RTX 3090. RTX 3080 may come with 10 GB of GDDR6X memory.
Generally, we don't saw (30)90 series in Geforce lineup at least from a couple of years after GTX 690. What this new lineup contains, will know more on the launch day if it actually exists. If this new model number is an expansion in SKUs (like Intel Core i9) means more options and more price.
Nvidia can use both Samsung and TSMC for their 7nm Ampere productions. Still, TSMC will play a major role in Nvidia silicon. This whole launch will be very interesting, what Nvidia changing in new GPUs.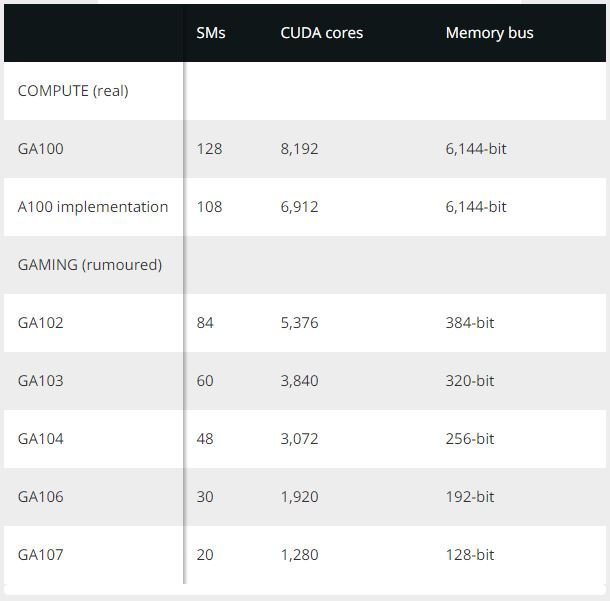 Performance
Rumors suggest the performance of RTX 3090 is about 50% more than the RTX 2080 Ti. And a 40% increase in rasterized performance and 4x improvement on the ray tracing. Now, this is a little confusing but the significant memory bump could help to achieve good numbers. There are a number of things for performance impacts like the microarchitecture and optimizations.
According to rumors posted on TechPowerUp, the 3000 series founders card features a 3 fan design and 2×8 pin power connectors. The source confirms that Geforce "Ampere" will implement the PCI-Express gen 4.0 x16 host interface. The higher-end card with GA102 can even boost above 2200 MHz and the lower-tier GA103&GA104 could boost up to 2500 MHz. Amper will offer approx 10 percent IPC increase over Turing.
Update:- There are some photos leaked out of founders edition RTX 3090 with RTX 2080 next to it. Looks like Nvidia will use triple slot design in their cards and triple fan design is skeptical to be true. If these photos are true then we may see some good cooling on cards.
Price
Price is something that I don't want to discuss at this time. No competition at a higher segment, left consumers with no other options. Although, AMD has put some competition on lower or mid-segment this time (RX5000). At higher-end NVIDIA's monopoly still there, until AMD Big Navi 20.
AMD or Intel GPU
AMD's Big Navi 20 GPUs are scheduled for the 2020 launch. Whether AMD will able to take down the GPU king, it's a matter of time. But one thing is clear here, the launch of Navi 20 will put Nvidia in real competition. Little skeptical about the features like ray tracing, AI on the Big Navi as Nvidia is two years ahead on products. But PS5 and Xbox both offering ray-tracing and used AMD's GPU so there is a good hope.
Not just AMD, Intel is also working on a discrete graphics card (DG1). Intel's new Xe GPU is rumored to be powerful than usual Intel graphics. We will be able to see more glimpse of Xe mobile GPU on Tiger Lake processors launching in September 2020.
Conclusion
There are many rumors and anticipation roaming around the Internet as I have discussed. we have to wait for the official launch of the cards on September 1 for every detail to be true. Move to 7nm, new Ampere architecture, GDDR6X could make the big jump over current Turing. The thing is how much Nvidia going to charge for the increased performance.
If the new Geforce Ampere cards really gonna provide a significant improvement on real-time ray tracing, with their improved architecture and configurations, so, playing games with ray tracing will not a heavy task for the graphics card anymore. Which overall improves the gaming experience with a good number of FPS.