Today, a variety of PC cases are available that fit in almost every scenario. Generally, we denote the case size with Tower like Full-Tower, Mid-Tower, and small form factor cases like Micro-ATX, Mini-ITX. Also, all cases have different expansion features for HDD, SSD, PCIe expansion slots.
However, not every PC case is suitable for everyone. Different users have different component requirements, and it is necessary to select PC cases accordingly.
Here, we have discussed some significant points that will help in getting the proper case for your PC, like airflow, future component expansion, looks, design, price, etc. 
There are many brands that make good quality cases like Corsair, NZXT, Lian-Li, Cooler Master, etc.
Size
As we said above, a variety of sizes are available in cases. And yes! When it comes to features, size matters. Whether you want lots of fans and radiator space, drive expansion, custom liquid cooling, bigger GPU, etc.
Full-Tower PC Case 
Full-Tower cases are huge thus take more space on the table. It supports E-ATX, ATX, Micro ATX, and Mini ITX motherboards. Also, it provides plenty of more room for custom water cooling, radiators, and fans.
Drive expansion is simple here as it has lots of expansion options. And no restriction for graphics card sizes and numbers.
Consider a full-tower PC case only if you plan to use an e-ATX motherboard, heavy custom water cooling, multiple GPU setups (like three or four).
Mid-Tower PC Case
Mid-Tower cases are evergreen for almost any type of PC building. These cases are compact than Full-Tower and most usual. It supports regular motherboard sizes like ATX, Micro ATX, and Mini ITX.
It provides ample space for fans, radiators, drive expansion (including SSD and HDD), cable management, and more. For AIO water cooling, Mid-size cases are more than enough.
Most of the Mid-size cases supports high profile graphics card too. But it's recommended checking the size for compatibility. 
Micro ATX & Mini ITX PC case 
The small form factor cases are decent for users who have a space crunch, especially. However, anyone can use it according to their needs. Generally, cases like this provide less flexibility with components.
Fewer options for fans and limited drive expansion. AIO liquid cooler can be used but depend upon the feature availability. In addition, low-profile and limited-sized GPUs fit. Check the GPU size compatibility with the case.
Mini-ITX case airflow isn't as good as Mid-Tower and Full-Tower cases. Micro-ATX PC case fits Micro-ATX and Mini-ITX motherboard, whereas Mini-ITX case only supports Mini-ITX motherboard. The big CPU cooler won't fit in either. 
Airflow matters most
You don't want your components to suffocate due to low airflow. There are cases in the market which has poor airflow and ventilation. Don't go for looks and design only. I know it matters but not at the cost of compromising airflow.
Search PC case according to what size CPU cooler, Air/Liquid cooler, you want to use. Custom liquid cooler generally required Full or Mid-Tower case.  
Adequate ventilation is required to pull cool air in and push warm out of the case. Cases that offer tight airflow clearance, especially at the front, should be avoided. Some cases even draw air from the bottom.
Despite good ventilation, poor fan orientation could ruin the airflow. It's necessary to configure the fans in the correct order to get optimal thermal performance. Few fan orientation examples are below. 
Look for a dust filter as it reduces the accumulation of dust inside the case. Dust on components can cause multiple issues like heating, reduces airflow, etc. However, don't forget to clean your case and dust filter regularly, even if you use a dust filter.
Price:- Make a Decent Budget.
It is important to choose a decent budget for your PC case. Most cheap cases don't offer a better build quality, adequate expansions, ventilated chassis, more pre-installed fans, etc.
At least select a case with two or more fans at the front and one exhaust fan at the back.
Up to ₹5000 ($50):- Many cases fit under this price point that offers overall good value. For cheap builds, it's OK to spend less on a PC case. A decent number of drives and fans can be installed.
Between ₹5001 – ₹15000:- Expensive build with high-end CPUs need great cooling solutions. Cases in this price bracket won't disappoint in features like liquid cooling, fans, expansion, large CPU cooler, big size GPU support, etc.
The cases with this price are more compatible with liquid cooling, offer better cable management, provides a better look with performance, more pre-installed fans, etc.
Decide the features you are looking to have in your case and then search. More expensive cases, above ₹15000, are also available in the market. A good Full-Tower case is generally pricey, and the most affordable is the Mid-Towers.
However, cases type, such as Full or Mid-Towers, don't decide the prices. Many feature-rich Mid-Towers are expensive than Full-Tower and vice versa.
Features to look
Sufficient SSD/HDD Mounting
Sure, we get some SSD/HDD mounts in every case. The problem appears when you have several of them, and no slots or mounts remain.
Good airflow and dust filter
Proper airflow is very crucial for any PC you ever build. The heat-generating components are everywhere inside the case, like motherboard, GPU, CPU, etc. Good airflow prevents components from reaching high temperatures. Lower temperatures help to output more performance.
Dust easily gets accumulate inside in high airflow cases. To avoid this, try to get a PC case with a dust filter. Although a dust filter does reduce airflow by some amount, it's worth it if you don't clean the PC very often.
Cable management
Of course, you don't want your PC to look ugly due to poor cable management, that too if your case has a tempered glass side panel. Although, most of the case nowadays supports good cable hiding and routing place.
Just find out which case is providing it better while meeting the other requirements.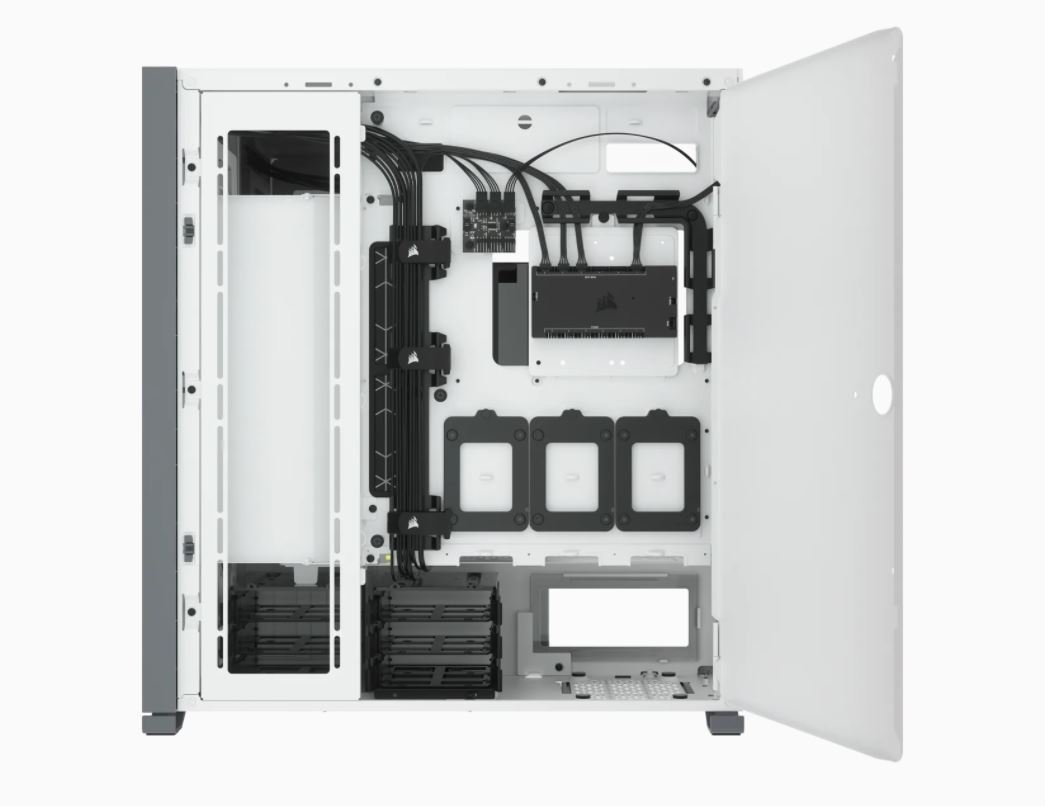 Support big air cooler
Keeping low temperatures is difficult on powerful multi-core CPUs (Core i9, Core i7, Ryzen 9), especially with small-size cooler. And for any reason, you want to avoid liquid coolers. If you are planning to use one of these CPUs, then look for a case that supports the huge size air cooler.
Supports liquid cooling
Other than air coolers, liquid coolers are the far best option to keep the CPU cool efficiently. Different sized radiators are available in an AIO liquid cooler like 120MM, 140MM, 240MM, 280MM, 360MM, etc. Also, custom liquid cooling needs extra space for a reservoir, tubes, etc.
Look for the radiator sizes are supported by the case or not, which you are planning. And not all AIO liquid cooler supported case supports custom loop liquid cooler fittings.
Support bigger GPUs
Modern graphics cards are getting bigger in length and width. Many of us are familiar with three slot cards, although two slot cards are common. Similarly, three fan graphics not only gives good thermals but also are bigger.  
Keep in mind that not every case supports the larger size graphics card. Check out the case specification to check the maximum GPU length it supports.
Modern front-panel connectivity
Front panel connectivity ports provide the facility to connect USB, audio jack, etc. Some cases also offer RGB control buttons.
More number of advanced ports is always better. Check for USB port numbers and versions like USB 2.0, USB 3.0, USB 3.2, etc. It is a big pain if you have to go to the back of the case to connect high-speed devices.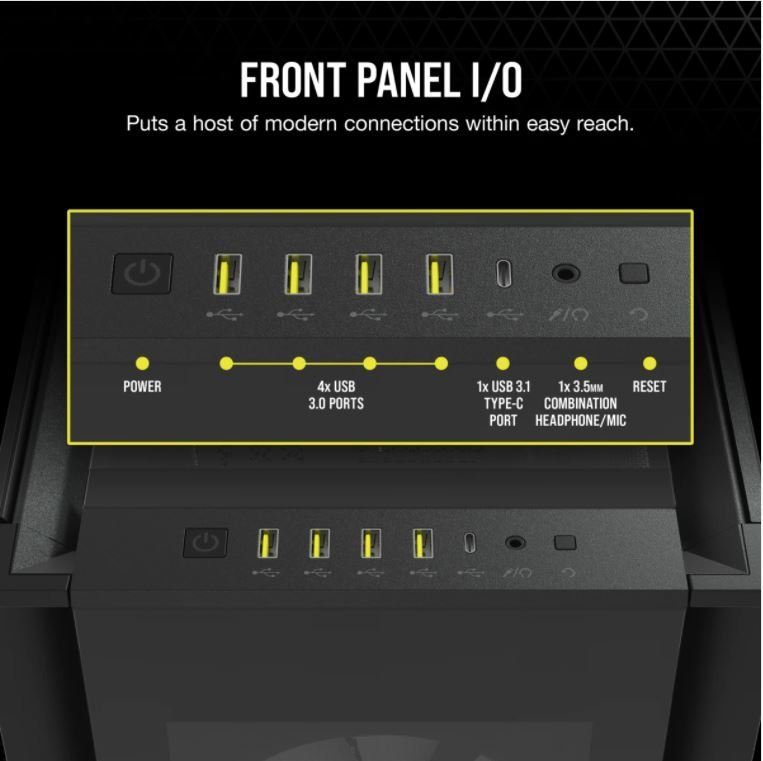 Optional Features
RGB
Lighting in a PC case makes it look amazing and the center of attraction. The use of RGB lighting significantly increased in all the PC components.  
If you like RGB lights and want to build a full RGB PC, choose a case accordingly. 
Vertical GPU mount
A regular GPU mounting method almost hides the graphics card look. The graphics card's fan, RGB lighting, look, and designs are all visible in the vertical GPU mount.
However, it's better to fit the graphics card like the traditional way (horizontal). Cases do not provide better airflow to the GPU when it is mounted vertically. Graphics card fans are so close to the side panel that interferes with the smooth airflow.
Vertical GPU also blocks access to the bottom of the motherboard. 
Tempered glass
Cases with tempered glass are becoming common these days. Having a tempered glass PC case is a must for those who plan on building a full RGB PC. Undoubtedly, the RGB illumination and tempered glass look magnificent and add essential characters.
PSU shroud
I, personally, like the PSU a lot because it hides most things and gives a clean look. It greatly helps in cable management. If you bought a non-modular PSU, you could easily hide unused cable under the PSU shroud.
A PSU shroud also helps to enhance the overall look of the PC case.