AMD targeted 1080p gaming with Radeon RX 6600 XT graphics card that also counters RTX 3060. Despite the instability in the graphic card market AMD is confident enough for reasonable price and stock. Let's see if price and performance make it the best 1080p graphics card out there.
However, AMD compared the RX 6600 XT to the RTX 3060 in its performance chart. But the MSRP price difference between both the cards is huge. If we compare the MSRP, the Radeon RX 6600 XT is very near to RTX 3060 Ti.
The MSRP of Radeon RX 6600 XT is $379 (₹37,750) whereas the RTX 3060 Ti MSRP is $399 (₹35,900). Although, these MSRP prices don't matter anymore due to the lack of GPUs and insane prices. Also, the RTX 3060 MSRP is $329 (₹29,500)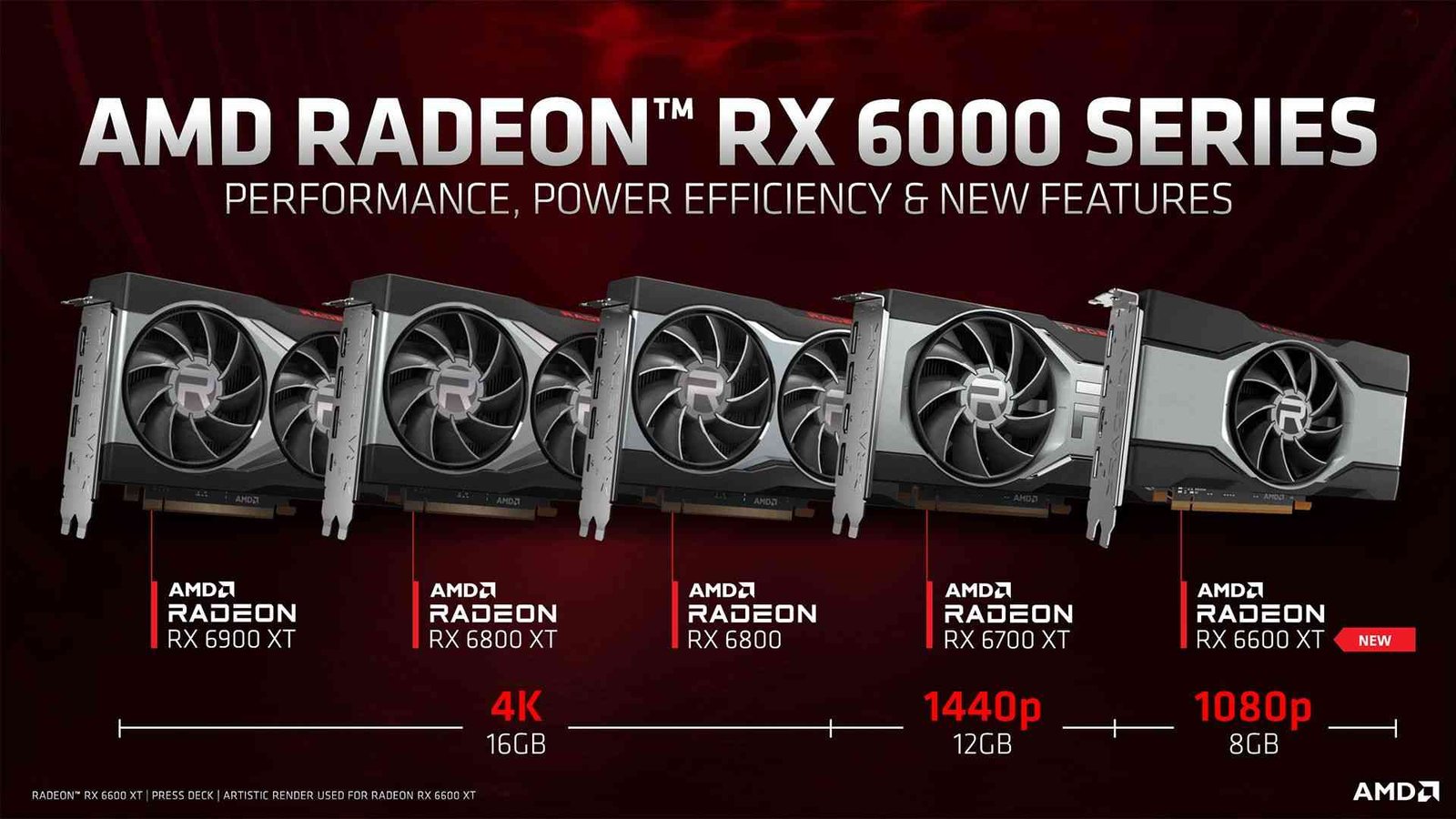 Performance
Undoubtedly, the RX 6600 XT gives excellent 1080p gaming performance and good FPS in 1440p gaming. That doesn't mean it becomes the best 1080p graphics card for the price. The overall performance numbers land between the RTX 3060 and 3060 Ti.
The Radeon RX 6600 XT scored around 100 FPS and more at 1080p high settings in most games. For instance, games like Shadow of the Tomb Raider, Far Cry 5, GTA 5, The Division 2, Red Dead Redemption 2, etc.
Cyberpunk 2077 is a big game where 6600 XT achieved lower than 100 FPS (around 70-80 FPS). There are a few games, like Forza Horizon 4 and Assassin's Creed Valhalla, where the RX 6600 XT beats the 3060 Ti by a huge margin.
Overall, in 1080p gaming, the RX 6600 XT is up to 22% slower than RTX 3060 Ti, depend upon multiple games. Moreover, 1440p gaming is not that tough for RX 6600 XT. You can enjoy 1440p gaming at 60 FPS and more. The GPU die has 1440p gaming potential but struggles little due to memory setup (only 128-bit memory interface) and lower infinity cache.
Ray Tracing
Nvidia is still a leader in Ray Tracing performance. Both RTX 3060 and 3060 Ti gives better FPS while using Ray Tracing and DLSS. Don't expect good performance with RX 6600 XT for the money you pay.
Power Consumption
The stock setting power consumption of the card is accurate as rated around 160W. This card is efficient than the 3060 Ti.
Radeon RX 6600 XT Specs
The Radeon RX 6600 XT has 32 computer units with a game frequency of 2359 MHz and a boost frequency of 2589 MHz. It uses 7nm Navi 23 GPU with RDNA 2 architecture. The 32 Ray accelerators enable the Ray Tracing ability.
It supports 8 GB GDDR6 memory with 16 Gbps memory speed and a 128-bit interface that creates 256 GB/s bandwidth. It has 32 MB of infinity cache and 64 ROPs. The rated power consumption is 160W.
The RX 6600 XT has x8 PCIe 4.0 lanes in full x16 slot type. So using it in any PCIe gen3 slots could make the GPU a few FPS slow. It also features FidelityFX Super Resolution (FSR), AMD Smart Access Memory, Radeon Boost, etc.
Best 1080p Graphics Card
It's not about the best you can buy. It's about the price we pay to get the best. The price of the Radeon RX 6600 XT is a weak point, what it offers. For 1080p resolution gaming, AMD is charging a big chunk of money. Although, these mid-range segment cards are no more affordable, thanks to the shortage, mining, etc.
At this time, it's difficult to recommend anything based on performance. If your graphic card is not disturbing your workflow, just for the sake of an upgrade, don't upgrade anything.
Performance-wise best card to buy is RTX 3060 Ti because it is better than RX 6600 XT with a marginal MSRP price difference. Furthermore, Nvidia Ray Tracing and DLSS are mature enough and superior to AMD.
On the other hand, price-wise, buy a card that has a significantly lower price. For example, first, the RTX 3060 Ti is much more expensive than the 6600 XT, so go for the RX 6600 XT. Second, if both the card has an almost similar price, prefer RTX 3060 Ti.
In a recent sale (online Stores) of RTX 3060 Ti and RX 6600 XT, I saw no price difference at all. Both the cards are selling for around ₹50,000. No comment on future price. Also, it's hard to find GPUs in stock, especially cheaper options.
So, the best 1080p graphics card is the best value GPU.
Conclusion
Because of the crazy market, the RX 6600 XT will also sell at a high price any time soon. Wish that the market fluctuation stops and at least we get cards at the current price.
The GTX/RTX XX60 series cards are generally said to be mid-segment in terms of performance and price. That costs between ₹25,000 – ₹35,000. Same thing for AMD RX X600 series cards. No newer generation cards are available in that price segment. As of now, the mid-segment budget is dead.
If any important news comes, then we will update here.