Xiaomi is a well-known brand for making the tech products at a cheap and affordable price, the great example is the smartphones by Xiaomi which is very popular among the Indian users. Now the smartphone is not the only thing which xiaomi is known for, here I am going to review the Power Bank by Xiaomi which I personally own.
20,000 mAh Mi Power Bank 2i Specs
The Mi Power bank battery capacity is 20,000. battery type is lithium polymer, The input current is 5.0 V -2.0A/9.0V-2.0A, The output current is 5.1V-2.4A / 9.0V-2.0A / 12.0V-1.5A MAX 18W, Charging time (approximate):6.7 hours (9V/2A, OEM charger) 10 hours (5V/2A, OEM charger). 2 x USB Ports for charging and 1 x micro USB to charge the power bank, Both the USB supports fast charging. Four LEDs for battery and charging status. Dimensions: 149.5 × 69.6 × 23.9mm.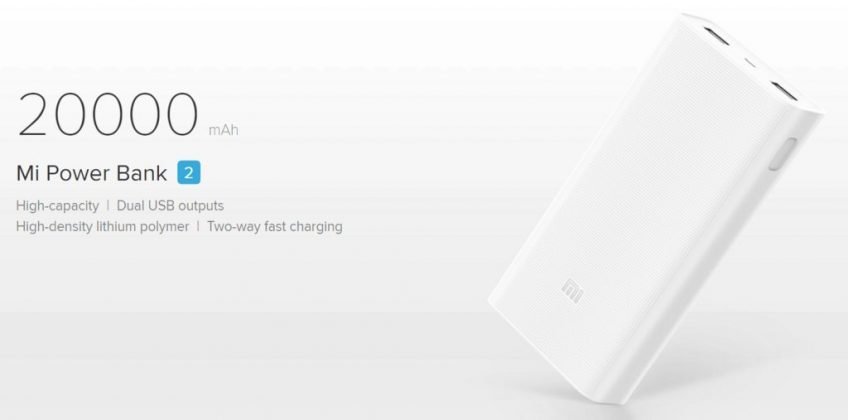 Review
Starts with the Built Quality, overall built quality is good for this power bank, the surface has tiny dots(Perforated Exterior) like patters for better grip, scratch-resistant, and comfortable to hold. The material used is environment-friendly PC+ABS. The whole body of power bank looks bulky and its overall size is on a bigger side, so if you want a compact size power bank this is not for you. Here we get only white color options which may become a problem for some users because white gets dirty fast, However, we do get the black color option in 10,000 mAh of it.
Now let talk about the important thing, the performance, this power bank comes with 20,000 mAh battery capacity, and out of 20,000, only 13,000 mAh is usable means you can charge around 4 times MiA1, 7 times iPhone 7 and 3 times Redmi note 5 pros. it has 2 x USB port for output which supports quick charge 3.0 but at a time only one port can be used to charge fast to only one device connected to power bank, if you connect on both the port neither of the port will charge fast. this power bank also provides the facility to charge the power bank and the smartphone connected to the power bank, charge simultaneously (also called as pass-through charging).
According to Xiaomi, it offers high-quality circuit boards which improve the safety of the device and have 9-layers of circuit protection which enhance the safety/efficiency for both charge and discharge like – temperature protection, short circuit protection, reset protection, input overvoltage protection, incorrect insertion protection, output over current protection, output over-voltage protection, overcharge and over-discharge protection, Hardware-level short circuit protection. there is also a low power charging mode for the low power devices like the Mi Band and Mi Bluetooth headset, you just have to double press the power bank button for enabling low power mode.
Overall, the performance seems to be good and this power bank by xiaomi is value for money. I have done my testing thoroughly with multiple smartphones before writing a single letter about this power bank.
Price
Mi power bank 2i 20,000 mAh is available in India for Rs. 14,99/-,  Mi power bank 2i 10,000 mAh is available in India for Rs. 7,99/-. There is also a compact power bank is available, Mi power bank pro 10,000 mAh priced at Rs. 14,99/-, so if you looking for the compact and sleek look this would be great. All these products are available in Flipkart, Amazon, and mi.com.