Intel Arc A380 desktop GPU launched in China, and an early independent review is now available by a Chinese reviewer. For some reason, Intel has kept the Arc A380 only for China for now. However, after a long wait, we have performance numbers of Intel Arc Alchemist GPU.
The Arc 380 GPU price in China is 1030 Chinese Yuan ($150) which is the MSRP of the card. Surely the custom card will cost more than the MSRP suggested by Intel. According to reports, the GUNNIR Intel Arc A380 Photon 6G OC model sold for 3,999 Yuan ($600), which is an extremely high price for such a card.
Intel Arc A380 Early Benchmarks
Let's put the price aside and look at the gaming benchmarks. Chinese independent reviewer "Shenmedounengce" tested the GUNNIR Intel Arc A380 Photon 6G OC card and posted a review video on Bilibili.com. He compared the A380 to the Radeon RX 6400 and GTX 1650 as both are similarly priced products from AMD and Nvidia.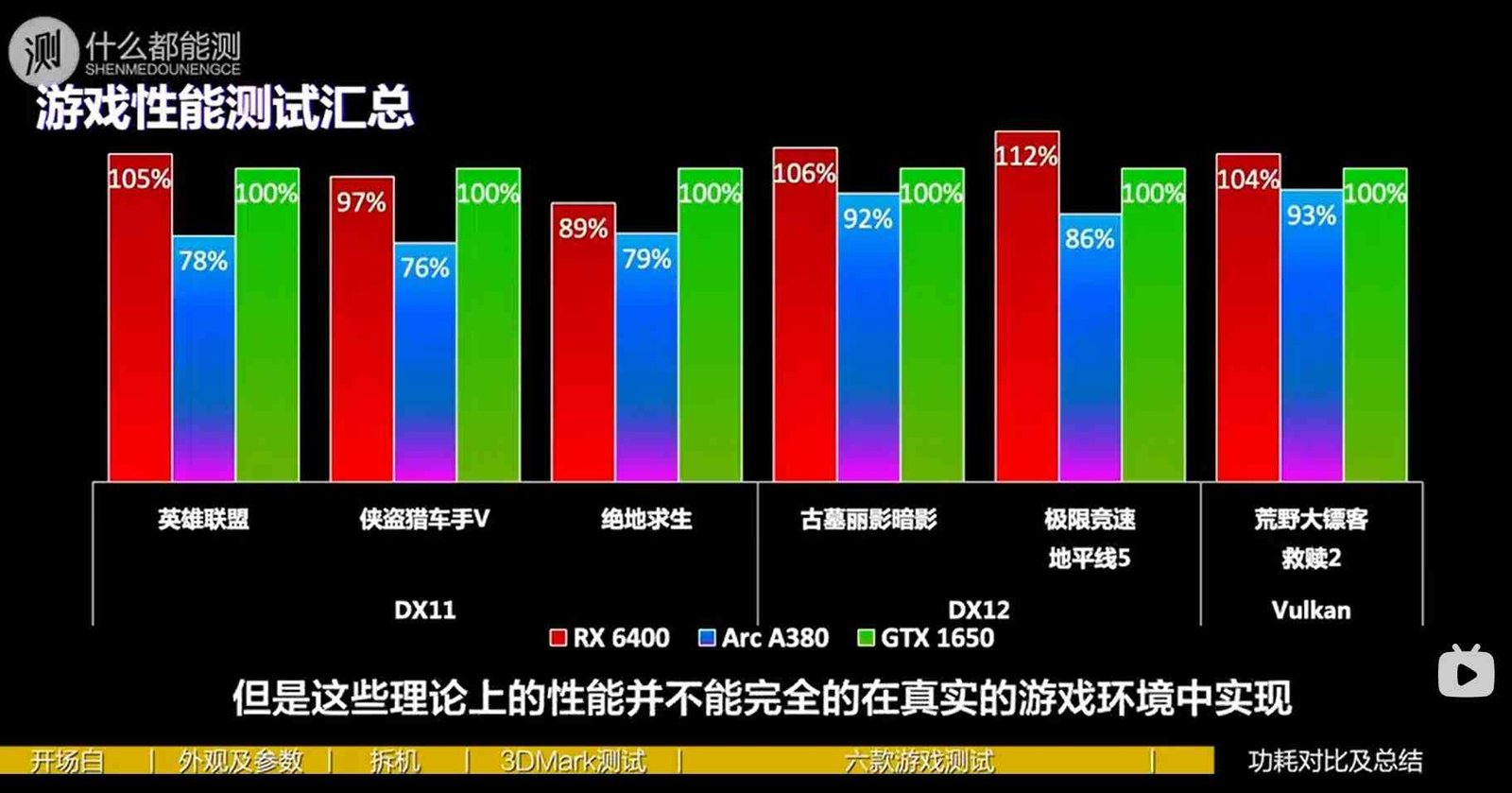 Although it's an early review, we expected better from the Intel side. Intel Arc A380 has weaker gaming performance than Radeon RX 6400 and GTX 1650. Furthermore, we don't have to forget that the GTX 1650 is a three-year-old card.
A total of six games have been tested at 1080p resolution. Games include League of Legends, PUBG, GTA5, Shadow of the Tomb Raider, Forza Horizon 5, and Red Dead Redemption II.
Overall Intel Arc A380 graphic card is 18% slower than Radeon RX 6400 and 16% slower than the GTX 1650. However, A380 showing is better FPS in DirectX 12 and Vulkan than DirectX 11.
Surprisingly, the Intel Arc A380 GPU is much faster than the RX 6400, RX 6500 XT, and GTX 1650 in synthetic 3D-Mark benchmarks. In 3D-Mark, A380 is 70% faster in Port Royal and 40% faster in Timespy.
The Arc A380 has ACM-G11 GPU with 8 Xe-Cores, 6GB of GDDR6 memory with 96-bit bus, and 15.5 Gbps memory speed. This GUNNIR A380 OC edition is clocked at 2.45 GHz (boost).
Intel GPU – Pick or Kick
The current performance number is a huge disappointment for Intel. Additionally, new generation cards from AMD and Nvidia will launch this year. And the A380 lost out to the old products.
But it's too early to judge the Arc A380 graphics card as the card is in its initial stage. The performance may not be up to the mark due to the lack of optimization of drivers and software. In fact, Intel delayed the global launch of its desktop GPU, which was scheduled earlier. That means Intel may be working on the issues.
However, the clock is ticking, and Intel will soon have to come to market with good GPUs to make some impact. Meanwhile, graphics card prices have already normalized to give tough competition to Intel.