Intel started slow and targeted the mid-segment of GPU rather than the high-end stuff. Intel Arc A770 and A750 GPU performance are out, and the cards are showing interestingly good results, including ray tracing. But since this is the first generation of Intel Arc GPUs, there are some issues that we cannot ignore.
First of all, after waiting for months or years, we finally got to see how the Intel Arc GPU performs. Moreover, the company could benefit from the ways they are currently progressing. After Nvidia's price ignorance, there is an opportunity in the lower to mid segment of cards. Fortunately, Arc graphics targets RTX 3060 and RTX 3050 segments with the Intel Arc A770 and A750 GPU performance. 
Earlier, Intel launched its entry-level Intel Arc A380 graphics card in China, which is underwhelming. However, the same does not apply to Intel Arc A770 and A750 GPU performance. This time Intel seems to have fulfilled its promise.
Intel Arc A770 and A750 GPU Performance Test
Surprisingly, the Intel Arc "Alchemist" GPU outperformed the RTX 3060 and Radeon RX 6600 XT. Especially in modern games that use the latest DX12 or Vulkan. Both Nvidia and AMD may need to worry about this. 
Obviously, there are cautions regarding Intel Arc that we have discussed below. For now, let's see the gaming performance of the Intel Arc A770 and A750 graphics cards.
tomsHardware eight games average benchmark show that the Arc A770 is 13% faster in 1080p ultra and 18% faster in 1440p ultra gaming than RTX 3060. The eight games include Borderlands 3 (DX12), Far Cry 6 (DX12), Flight Simulator (DX11), Forza Horizon 5 (DX12), Horizon Zero Dawn (DX12), Red Dead Redemption 2 (Vulkan), Total War: Warhammer 3 (DX11), Watch Dog Legion (DX12) 
The next benchmark is from PCWorld. Interestingly, the ray tracing performance in Intel Arc GPU is very impressive. Notably, only RAW ray tracing performance has been tested to know the capabilities of Arc GPU. Nvidia DLSS, AMD FSR, and Intel's own XESS are disabled in order not to boost ray tracing performance in any way. 
In 1080p ray tracing, four games average, Intel Arc A770 gives a 13% gain over RTX 3060, whereas the Arc 750 is 10% slower. The Four games are Cyberpunk 2077, Shadow of the Tomb Raider, Metro Exodus, and Watch Dogs Legion.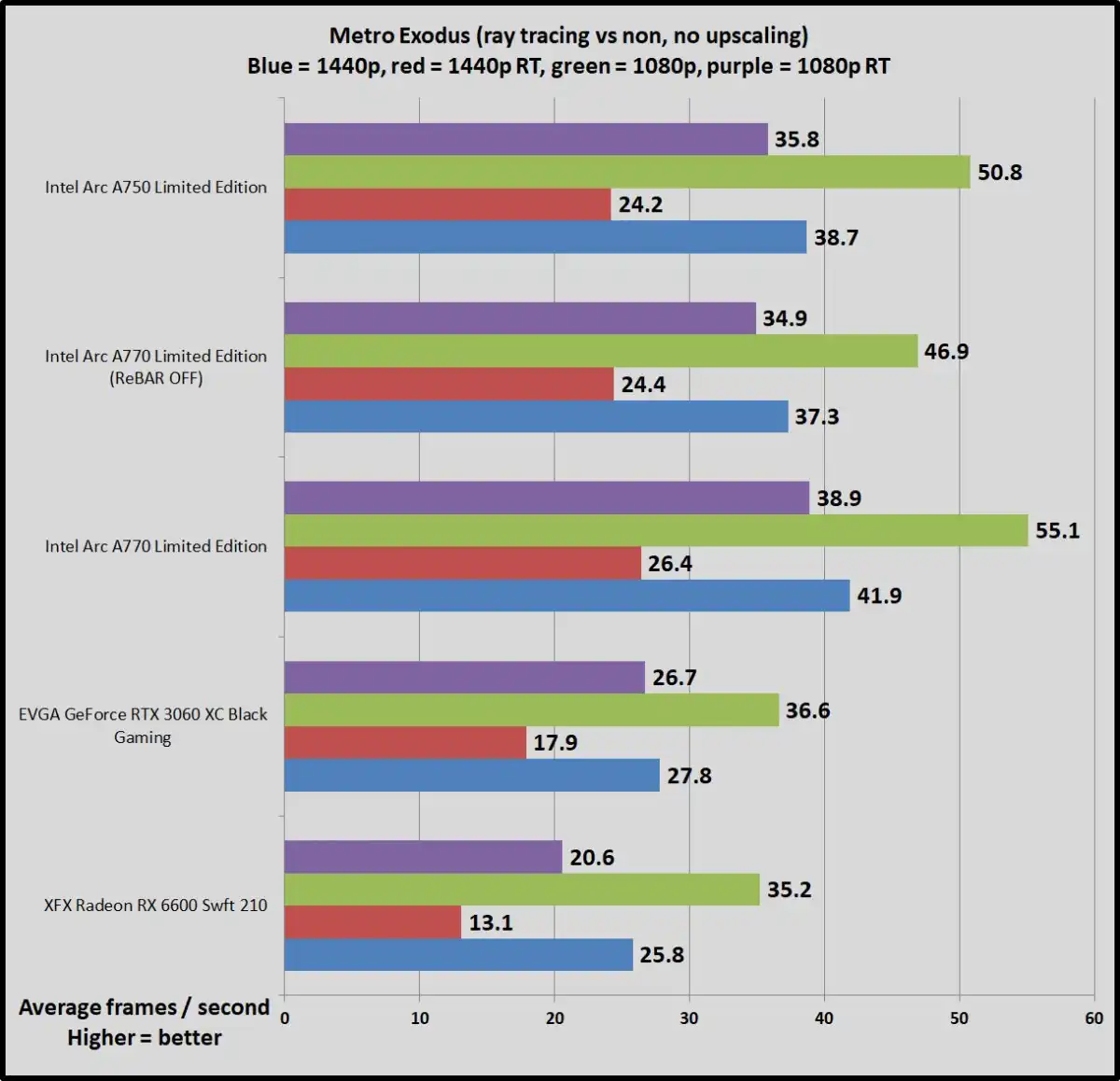 Shocking! Intel implemented ray tracing so well that it washed out Nvidia's 2nd gen RT-core on RTX 3060. Even $289 Arc A750 is just 10% slower than $380 to $400 3060. We are not adding AMD here because AMD RX 6600 ray tracing is poor.
Moreover, it looks like Cyberpunk 2077, a modern DX12 game, is not favouring Intel Arc GPU, not only on ray tracing but also on raster performance. Probably, game optimization is pending for Arc graphics.
A770 and A750 Specs and Price 
The Intel Arc graphics is based on Alchemist GPU architecture built on TSMC 6N. Supports PCIe Gen 4, display output-DP 2.0 and HDMI 2.1. Xe media engine contains most encoder/decoder, including AV1 encode/decode.
Intel Arc "Alchemist" A770 GPU has 32 Xe cores and 512 XMX matrix engine. The A770 is available in 8GB and 16GB GDDR6 VRAM variants. Memory speed is 17.5 Gbps per bit at the 256-bit interface, which brings a total of 560 GB/s memory bandwidth. Intel Arc A770 Limited Edition card TGB is 225W. Priced at $329 for 8GB and $349 for 16GB.
More budget-friendly Intel Arc A750 offers 28 Xe cores and a 448 XMX engine. It has 8GB VRAM at 16 Gbps memory speed. The memory interface is 256-bit, and the memory bandwidth is 512 GB/s. Intel Arc A750 Limited Edition TGP is 225W. Intel has Priced at $289.
To counter Nvidia DLSS and AMD FSR, Intel made its upscaling technology XeSS. It will upscale the frame using machine learning, utilizing the XMX engine. For now, not many games support it, but surely more games will add it later.
Intel introduced "Arc Control", a new graphics monitoring control centre. That allows monitoring GPU performance, GPU tuning, driver status, etc.
Current Issues – DX12, Drivers, Resizable Bar
The initial launch brings driver bugs, limitations, crashes, unsupported things, etc. All reviewers have experienced painful issues when testing Arc cards. Many problems caused due to the lack of driver and game optimizations. However, driver and game optimization issues will definitely get resolved later. Intel Arc A770 and A750 GPU performance got hit due to this issue.
Arc GPUs strongly support and give more FPS on DX12 and Vulkan games. On the other hand, DX9 or DX11 games are not performing best with Arc graphics. Most AAA titles and popular e-sports games use new DX12 and Vulkan technologies. But older games, small indie games, and double AA titles still run on DX11 or DX9.  
However, Intel promises to price Arc GPUs based on the worst performance case. The same we can see as the low-cost A770 crushed the expensive RTX 3060 in modern games.
"ResizableBAR" lets your CPU access your GPU's entire memory frame buffer rather than accessing it in tiny 256MB chunks. It certainly boosts performance for Nvidia and AMD. But Intel Arc GPUs badly need the resizable bar to produce high FPS in games. "If you don't have PCIe ReBAR, get a 3060". 
Sadly, not all AMD or Intel CPUs and motherboard supports Resizale Bar. It required a minimum AMD Ryzen 3000 and Intel 10th Gen CPU. If your hardware support "ReBAR" and you can't find it, you probably need to upgrade the BIOS/firmware.
Final Verdict
In short, If you are a user who likes to adopt bleeding-edge new tech and doesn't care much about instability, get one Intel Arc GPU. To be honest, Intel Arc A770 and A750 GPU performance proved itself, while there are things we can't ignore. However, the Intel engineering team is working hard to polish the overall experience with Arc.
To play safe, RTX 3060 and Radeon RX 6600 XT is the best deal for you. Intel is still new in the discrete graphics department, and the company needs time to mature its architecture and expand its support to different games.
Finally, it's good news that a new GPU player has arrived to counter the dominance of Nvidia and AMD. Personally, I didn't expect this excellent performance from the first-generation Intel Arc GPUs.