There is one CPU segment where Intel shines, and there is no competition from AMD. Yes! We're talking about Core i3s. New Generation Intel Core i3-13100 is the best low-budget gaming CPU. For some reason, AMD totally abandoned the low-budget segment with few underrated CPUs.
The 12th Gen Core i3-12100 successfully completed its journey as the best budget gaming CPU. Now, it's time for the new 13th Gen Raptor Lake Intel Core i3-13100 to carry forward this legacy.
The Intel Core i3-13100 has 4 Performance-cores that deliver a 4.5 GHz max turbo clock, 200 MHz higher than the i3-12100's 4.3 GHz. No Efficient-cores are available. Total L2 and L3 cache are 5MB and 12MB, respectively. Furthermore, the Base power consumption is 60W, whereas the max turbo power consumption is 89W. There are two variants, Core i3-13100 and i3-13100F, and as we all know, 13100F lacks iGPU.
Intel Core i3-13100 is low budget performance CPU
According to Hardware Unboxed, 12 games average at 1080p gaming benchmarks show that the 13th Gen Core i3 is around 2% faster than the Core i3-12100. Nvidia GeForce RTX 4090 has been used to benchmark to avoid any bottlenecks. However, nobody would attach a high-end >$1500 graphics card to a low-budget CPU.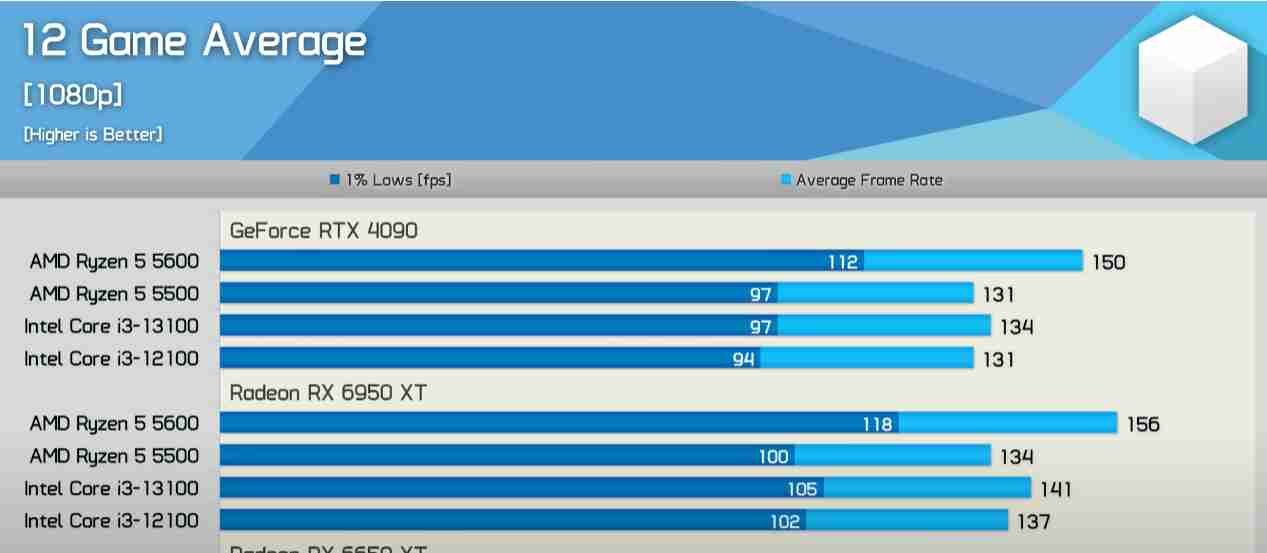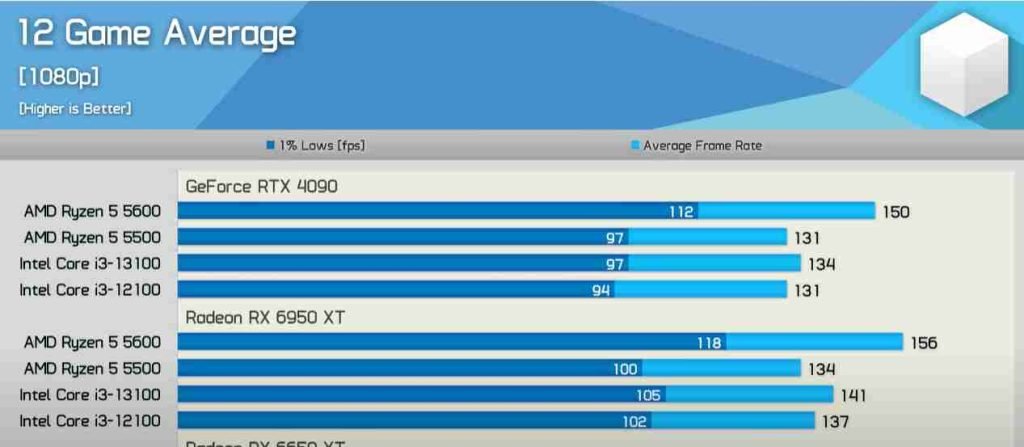 Pairing with a decent graphics card will give you the best 1080p gaming experience. You can also enjoy light editing works in Adobe suite with i3-13100. So, very beginner-level productivity tasks would be easy.
Recently, AMD drastically cut the prices of the Ryzen 7000 CPUs after Intel's 13th generation launch. But even then, the cheapest "non-X" Ryzen 7000 CPU costs a lot more than the 13th generation Core i3 (Ryzen 5 7600 – $229).
Still 4 Cores
An extra 2% improvement in Core i3-13100 is probably coming from the 200 MHz frequency bump from i3-12100. Intel, for some reason, has not introduced Efficient-cores to Core i3, while the cheaper Core i5-13400 and 13500 now have Efficient-cores which the i5-12400 and 12500 lacked in the previous Generation.
Perhaps Intel is keeping the Efficient-cores in the Core i3 as a weapon to fight AMD in case AMD launches something in the low-budget CPU segment.
Price
Currently, the Intel 13th Gen Core i3-13100 retails for $149 on newegg.com, and the Core i3-13100F is $125 on BESTBUY. The prices are already too high compared to Intel's suggested prices which are 109 for 13100F and 134 for 13100. We will update the Indian prices soon.