AMD has once again brought a big challenge in front of Intel. Yes! AMD Ryzen 7000 CPUs are launched and will be globally available from September 27. With the Ryzen 7000s, this time, we get a vast frequency boost over Ryzen 5000s. Many more advanced features and significant performance enhancements are integrated into the Ryzen 7000s.
New CPUs are powered by Zen 4 architecture built in TSMC 5nm process node. Despite the new advanced process node, the Ryzen 7000's maximum power consumption is 170W, far higher than the 105W Ryzen 5000s. AMD engineers have ignored the term power efficiency from the Ryzen 7000.
For the first time (in Ryzen), AMD has broken the 5 GHz frequency barrier, and the frequency is closer to 6 GHz which is 5.7 GHz for the Ryzen 9 7950X. CPU overclocking can theoretically easily take it beyond or equal to 6 GHz. The Ryzen 9 5950X has a boost clock of 4.9 GHz, which is 800 MHz slower than 7950X. But the higher frequency comes at the cost of higher power consumption, so we are noticing higher default TDP values in all Ryzen 7000 CPUs.
Ryzen 5 7600X outperformed 12900K
Ryzen 7000 offers a 13% IPC gain and 29% single-threaded performance improvement over Ryzen 5000. The Ryzen 9 7950X gives more than 40% content creation performance than Ryzne 9 5950X.
According to AMD internal benchmarks, Ryzen 9 7950X is the fastest gaming CPU in the world. And for creators, it delivers up to 62% more computer power than Core i9-12900K. Not only that, AMD compared its mid-tier Ryzen 5 7600X gaming performance with Intel's top-tier Core i9-12900K. And the results are surprising the Ryzen 7600X is 5% faster than 12900K.
AMD Ryzen 7000 supports DDR5 memory and PCIe 5.0. However, some limitations have been added with the implementation of PCIe 5.0 to different chipset motherboards.
No Discrete GPU needed
Ryzen 7000 CPU has a new 6nm I/O die that features an integrated GPU with a 2 AMD Radeon graphics core. The iGPU enables hardware-accelerated video to encode/decode, light graphics work and multi-display support. Surely, it won't help you in gaming as APUs do. But buying a discrete GPU is not compulsion with the Ryzen 7000.
600 Series Chipset
There are four new 600 series chipset types in the new AM5 socket motherboard. They are X670E, X670, B650E, and B650. The X670E and X670 chipsets are arriving in September, and AMD B650E and B650 chipsets are in October. AMD will support the AM5 socket platform at least up to the year 2025+. Support was great with the Socket AM4 and we're expecting the same with the AM5.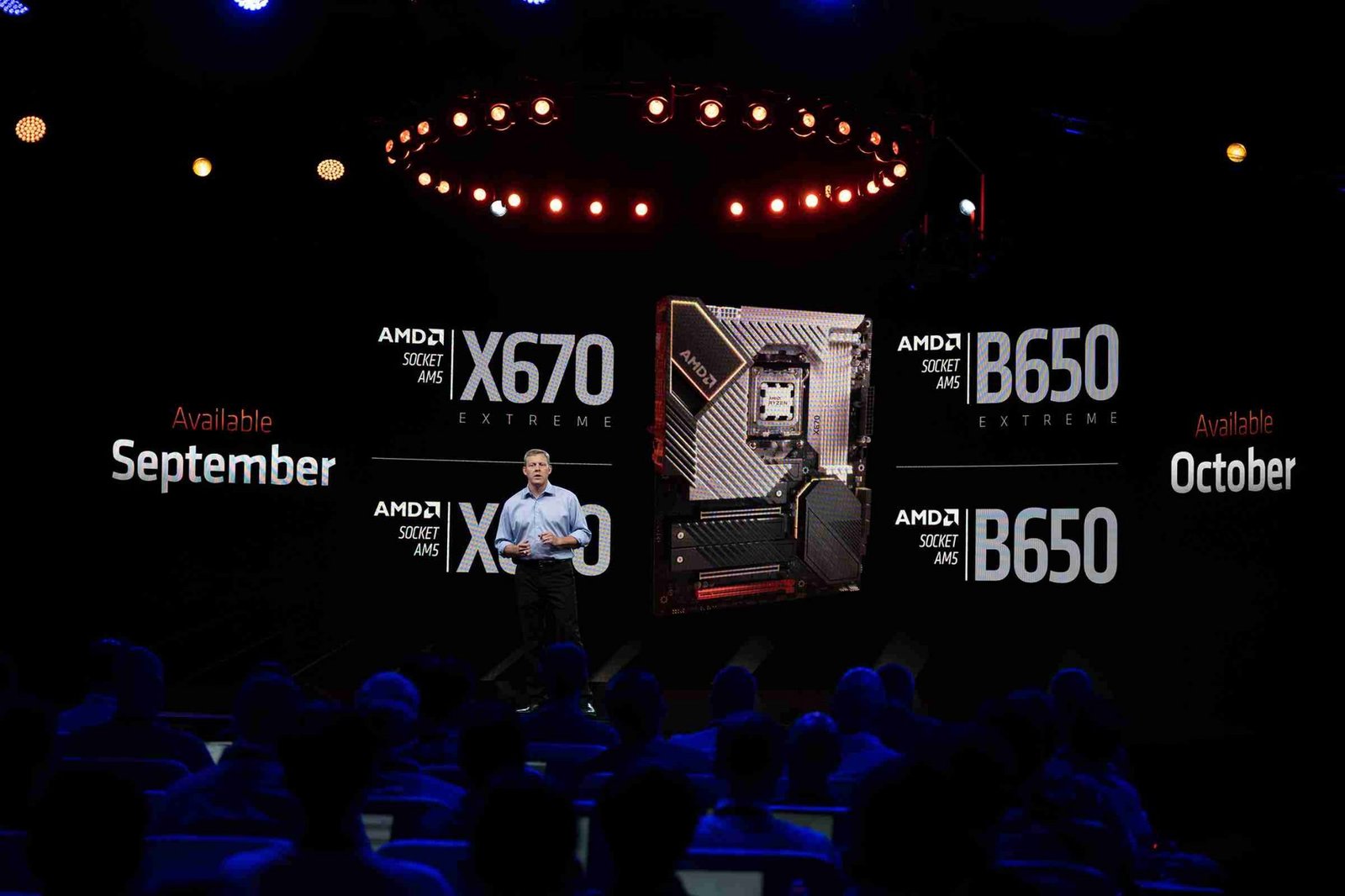 Just keep this in mind before investing in any of the AM5 600 series chipset motherboards. Only X670E and B650E support PCIe 5.0 for both GPU and Storage, whereas X670 and B650 have only PCIe 5.0 storage.
AMD Ryzen 7000 Specs & Price
AMD launched four Ryzen 7000 CPUs. They are Ryzen 9 7950X, 7900X, Ryzen 7 7700X and Ryzen 5 7600X.
Ryzen 9 7950X has 16-core/32-threads that boost up to 5.7 GHz with 170W TDP. The total cache is 80 MB and priced at $699. Ryzen 9 7900X has 12-core/24-threads that boost up to 5.6 GHz with 170W TDP. The total cache is 76 MB and priced at $549. The Indian price of the Ryzen 7 7950X is around ₹66,000 and Ryzen 7 7900X is ₹51,900.
Ryzen 7 7700X has 8-core/16-threads that boost up to 5.4 GHz with 105W TDP. The total cache is 40 MB and priced at $399. Ryzen 5 7600X has 6-core/12-threads that boost up to 5.3 GHz with 105W TDP. The total cache is 38 MB and priced at $299. The Indian price of the Ryzen 7 7700X is around ₹37,750 and Ryzen 7 7600X is ₹28,500.
You might be thinking of the Ryzen 7 7800X on the list. AMD may have reserved the 7800X SKU for its 3D V-cache technology, just as it replaced the 5800X into Ryzen 7 5800X 3D.
AMD EXPO for Memory Overclocking
The new AMD EXPO technology gives users advanced profile settings for DDR5 memory overclocking. This technology is optimized for AM5 socket motherboards. AMD EXPO technology was designed to achieve higher gaming performance from pre-configured overclocking profiles and is easy to implement.
AMD EXPO technology arrives to market alongside the AMD Ryzen 7000 Series processors, with offerings from ADATA, Corsair, GeIL, G.SKILL, and Kingston. Over 15 AMD EXPO technology-enabled memory kits will be initially available, with memory speeds up to DDR5-6400.
Numbers Look Promising
After looking at all these impressive specifications and internal benchmarks, the Ryzen 7000 CPU seems to be dominating the market once again. However, independent reviews are yet to come to show us the full insights and capabilities of these new Intel killer Ryzen CPUs.